Viasat Inc. (NASDAQ: VSAT) is now able to offer enhanced gate-to-gate in-flight connectivity and pier-to-pier maritime services through an international agreement signed by International Telecommunication Union (ITU) Member States that open more Ka-band spectrum for satellite mobility solutions.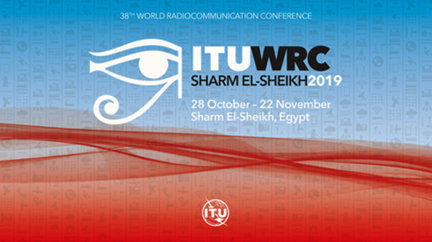 The treaty, which was signed at the 2019 World Radiocommunication Conference (WRC-19) on Friday, November 22, 2019, provides access to four times more global Ka-band spectrum for satellite-powered aviation and maritime broadband connectivity. The treaty ensures that Earth Stations in Motion (ESIM) can access the full Ka-band spectrum consistent with Viasat's strategy — focusing on broadband mobility services operating worldwide — in preparation for the upcoming launch of its global Ka-band satellite constellation, ViaSat-3.
During WRC-19, Ka-band spectrum availability for ESIM received resounding support from the international community after comprehensive studies were completed and reviewed. The decision reaffirmed the WRC-15 decision that Ka-band is the optimal band for expanding satellite broadband services. It also ensures a harmonized international framework for authorizing ESIM services throughout the band and across the world, opening the door for airlines and shipping lines to digitize their fleets, and connect more passengers and crew on a single network.
Today, the airline industry is facing growing demand from passengers, crew and aircraft fleet operators and suppliers alike who expect gate-to-gate connectivity. New services that will improve flight operations as well as deliver enhanced passenger experiences will benefit from the added Ka-band spectrum for these services providing affordable, high-quality broadband in the air.
Mark Dankberg, Chairman and CEO, Viasat, stated the company is grateful for the global recognition of the importance of Ka-band satellite broadband for use on mobile platforms from aircraft, ships and ferries to buses and trains. Having a uniform regulatory framework for ESIM applications across nations will enable Viasat to meet escalating customer requirements for mobility service enhancements, while creating a broader environment for further innovation in the mobility sector.
Gilberto Lopez Meyer, SVP, Safety and Flight Operations (SFO) at the International Air Transportation Association (IATA), added that the airline community congratulates the World Radiocommunication Conference 2019 for its successful work on the issue of ESIM. ESIM will support airlines in providing better broadband connectivity for on-board passengers. It will also serve as an enabler for airlines' digital transformation effort in enhancing current and future gate-to-gate operations.