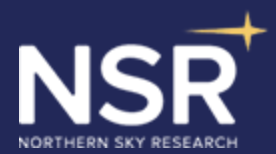 On Wednesday, April 1, at 7:00 to 8:10 a.m. PDT, NSR is going to conduct a no cost webinar that deals with Space Tourism and Travel: Are We There Yet?
Space Tourism is one of the most ambitious and exciting opportunities in the satellite and space sector. However, it is also one of the most challenging. For more than two decades, numerous commercial entities have been developing the infrastructure, technology, and policy, which would enable space travel and tourism, yet there remains no commercial opportunity today.
Can Space Tourism overcome its history of delays and market issues, and finally take off? Demand seems high, but what is the real opportunity over the next decade?
Leveraging NSR's industry-leading analysis of Space Tourism and Travel markets, this no cost webinar will answer the following critical questions:
What is the status of the major players, and what services are they offering?
How much investment has there been in space tourism?
What is the size of the real addressable market for Space Travel & Tourism?
When can I buy a ticket to the International Space Station, and how much will it cost?
Which Space Tourism experiences are available for purchase today?
Does NSR see space tourism as a real market opportunity now and in the future?
How will point-to-point travel impact the Space Tourism market, and when can we expect it?
In addition to technology readiness, what else is holding back the Space Tourism market?
How does the impact of the coronavirus affect the Space Tourism market?
Join NSR for this FREE webinar assessing satellite Space Tourism & Travel market growth. To register for this informative webinar, please access this direct link...