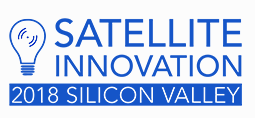 October will be here sooner than you think, and with it will be one of the greatest convergences of the space industry's experts — a one-stop event, Satellite Innovation from October 8-11, in which talents from around the world will be available for their opinions and questions in an intimate setting of the Computer History Museum in Silicon Valley, California.
Satnews' Satellite Innovation conference runs from October 8-11 located in California's Silicon Valley is an all inclusive event that includes:
access to sessions and speakers
workshops
meals
a cocktail reception
Rather than recounting industry trends or focusing myopically on NewSpace, the Satellite Innovation conference is designed to provide a bigger picture of how new technologies are influencing SatCom businesses, and how organizations can optimally utilize these developments.
Satellite Innovation 2018 features a dynamic group of over 120 speakers who will be participating in a series of panels, workshops, focused presentations and keynotes designed not only to address exciting innovations, but the market forces that will guide their implementation.
Some examples of Wednesday's keynote speakers include:
Steve Collar, CEO of SES who was appointed CEO of SES in April 2018. He had been the CEO of SES Networks since May 2017. Mr. Collar is a satellite industry veteran, having previously worked in a variety of commercial, business development and technical roles at SES WORLD SKIES, New Skies Satellites, Astrium and Matra Marconi Space (now Airbus).
Steve Jurvetson, Co-founder, Future Ventures & DFJ who is an early-stage venture capitalist with a focus on founder-led, mission-driven companies at the cutting edge of disruptive technology and new industry formation. Steve was the founding VC investor in four public companies and several rapidly growing companies like Planet, Memphis Meats, Hotmail, and the deep learning companies Mythic and Nervana. He also led VC investments in companies that were acquired for $16 billion in aggregate.
In addition to a content rich program, Satellite Innovation is home to many networking events.
Thursday's celebrated keynote speaker is:
Charles Wald, General, USAF (Ret.), Vice Chairman Federal Practice Senior Advisor, Deloitte Services who serves as Vice Chairman, Federal Practice Senior Advisor, Deloitte Services, LP. He is responsible for providing senior leadership in strategy and relationships with the U.S. Department of Defense. General Wald is a subject matter specialist in weapons procurement and deployment, counterterrorism, and international energy security policy.
To learn more about the constantly updated sessions and more than 120 speakers check here frequently.
Check out the attending organizations that will be represented in one format or another here.