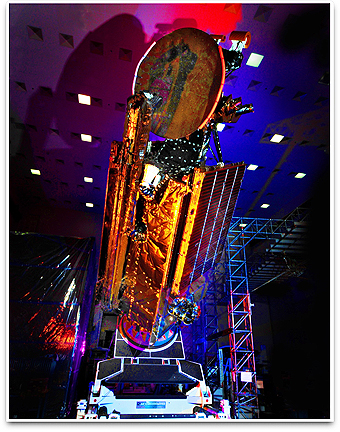 Space Systems/Loral (SS/L), a subsidiary of Loral Space & Communications (Nasdaq:LORL) announced that SIRIUS FM-5, a satellite that it provided to SIRIUS XM Radio, is performing post-launch maneuvers according to plan.
The satellite's solar arrays deployed on schedule early this morning (July 1st), following yesterday's successful launch from the
Baikonur Space Center
in Kazakhstan aboard a
Proton Breeze M
launch vehicle provided by
International Launch Services
(
ILS
). The satellite is scheduled to begin firing its main thruster tomorrow in order to start maneuvering into geosynchronous orbit.
SIRIUS FM-5
will be the highest-powered satellite in the
SIRIUS
fleet, with end-of-life power capability of nearly 20 kilowatts. It has a nine-meter unfurlable reflector, built by
Harris Corporation
, which allows for broadcast to cars and other small mobile devices. The satellite is based on SS/L's
1300
space-proven platform, which provides the flexibility to support a broad range of applications and technology advances. SIRIUS FM-5 will be the first geostationary satellite in the SIRIUS constellation, which already includes three SS/L built satellites in
highly elliptical inclined orbits
(
HEIOs
). The satellite will supplement the existing constellation in providing radio service to the continental U.S. as well as Canada. When SIRIUS FM-5 reaches its geostationary orbital slot at
96 degrees West
, there will be 56 Space Systems/Loral GEO satellites on orbit.