No longer a luxury, now it's a necessity to have connectivity everywhere. For those in enterprise and government organizations who need to travel and work in extreme conditions the strong performance of satellite communications is required. To this end...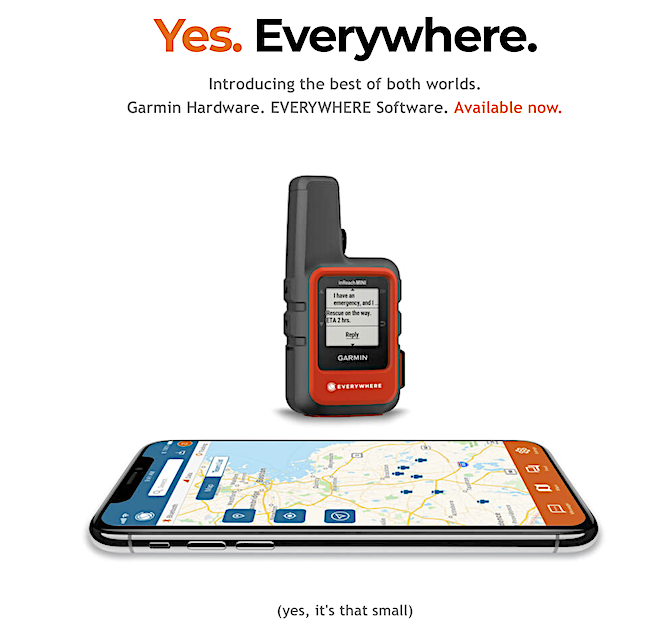 EVERYWHERE Communications, Inc. is in agreement with Garmin International Inc. to offer inReach satellite communicators as part of its product portfolio. EVERYWHERE provides safety, connectivity and productivity solutions for enterprise and government organizations with people and assets deployed globally. The marriage of the strong performance of Garmin devices, paired with the powerful software capabilities from EVERYWHERE, will benefit government and enterprise customers around the globe.

Powered by Iridium®, using the recently upgraded Iridium satellite constellation to provide truly global connectivity, the inReach and inReach Mini offered by EVERYWHERE ensure that customers remain connected no matter where they are located on the planet, as well as Wi-Fi and cellular networks, to provide always-on connectivity globally, including the over 80 percent of the world beyond the reach of cellular.
The inReach Mini, a small, compact satellite communicator, when combined with EVERYWHERE's enterprise software and intelligent routing, enables organizations to track and communicate with their teams deployed around the globe. Measuring just under 4-inches tall by 2-inches wide, and weighing 3.5 ounces, the inReach Mini is appropriate for teams that require connectivity when out of cellular coverage. When paired with the EVERYWHERE App, using EVERYWHERE's routing capability, users are able to seamlessly transition between cellular and satellite for always-connected service. Like all EVERYWHERE solutions, the inReach Mini offers critical SOS functions and messaging capability, whether in standalone mode or paired with the EVERYWHERE smartphone app.
Patrick Shay, president and chief executive officer, EVERYWHERE said that they are excited to add the inReach satellite communicators into the EVERYWHERE product portfolio. Their customers operate in the most demanding conditions, and products like the inReach®Mini, when combined with their suite of purpose-built software solutions, provide the safety, connectivity and productivity tools for which EVERYWHERE is known. When it is absolutely critical to have connectivity, you need trust and experience behind you.
Scott Marquis, inReach enterprise manager at Garmin added small but mighty, the inReach Mini is built tough to withstand extreme conditions. EVERYWHERE was an obvious partner, as their enterprise and government customers demand the ruggedness, flexibility and global reach that the Garmin inReach Mini offers.
Bryan Hartin, executive vice president of sales and marketing, Iridium is thrilled that EVERYWHERE and Garmin have partnered to offer this unique solution to customers around the globe. The combination of Garmin equipment and EVERYWHERE enterprise-level expertise will help expand the adoption of this critical capability.