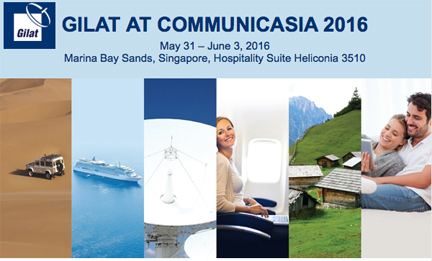 When SoftBank required a reliable solution to deliver LTE backhaul to remote areas of Japan, they tapped Gilat—and then when Bharti needed to deliver government services to rural villages, they also tapped Gilat.
At CommunicAsia2016, which runs from May 31 to June 3, attendees will learn of the work by Gilat that's behind these successful project implementations. In Singapore, the company will explain how their managed services satisfied their customer connectivity needs in record time... and in any terrain. This would be a solid opportunity to learn how to maximize the HTS technology to expand into any market with Gilat's proven single-platform X-Architecture.
Additionally, check out the CMMA Deployment Showcase. On May 31 at 2:00 p.m., Amir Yafe, the Director of Product Management at Gilat, will participate in a panel discussion on successful HTS deployments.
The company would like to take this event opportunity to meet SatMagazine readers face-to-face—to schedule a meeting with a Gilat representative, please contact Swati Bhatia at this direct email address.