[SatNews] Gilat Satellite Networks Ltd. (NASDAQ: GILT) will present its cellular backhaul solution at several key industry events occurring during April:
Transport Networks for Mobile Operators (TNMO)
Date: April 22-24, 2013
Location: Hotel Russell, 1-8 Russell Square, Bloomsbury, London, Stand: #6
Presentation: April 23, 15:00—Gilat presentation entitled "Small Cells for Rural Areas and Developing Markets"

Mobile Backhaul Asia Date: April 23-25, 2013
Location: Conrad Hotel, Bangkok, Thailand—Stand: #10
Presentation: April 24, 15:55 // Gilat presentation entitled "Utilizing VSAT for Next Gen Cellular Backhaul Applications"
To schedule a meeting at one of these events, please click here.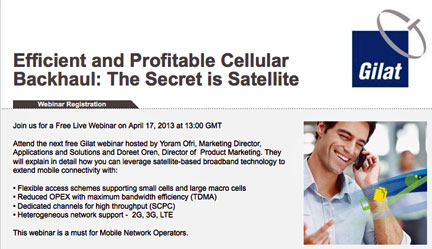 Gilat will also host a free live webinar to present its cellular backhaul solution. Titled "Efficient and Profitable Cellular Backhaul—the Secret is Satellite," this must attend webinar will be hosted Wednesday, April 17, 2013 at 13:00 GMT. To reserve a seat at the webinar, please click here.
For advance information about Gilat's cellular backhaul solution, please click here for a free copy of the white paper "Satellite Communication for Efficient Cellular Backhaul."