TeamCast is presenting their technologies and products at the upcoming Satellite 2017 show.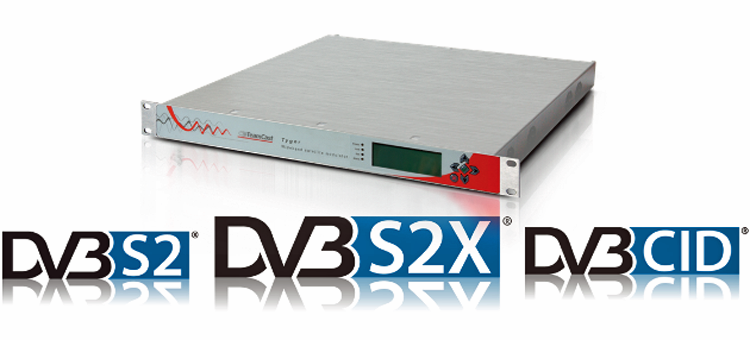 Up first is TYGER, a new satellite modulator that offers the same high level of performance as the DVB-S/S2/S2X VYPER modulators, with the benefit of an unprecedented high throughput. Tyger offers rates up to 480 Mbaud for DVB-S2 and DVB-S2X standards, meaning up to 2 Gbps useful rates. For IP transport, TYGER uses the latest GSE adaptation algorithm. This insures lower overhead and maximized capacity and spectrum efficiency. TYGER is also meeting the requirements of the DVB "Annex M," making it capable of mixing services (broadcast and broadband) over the same satellite carrier. Specifically, it supports Time-Slicing, a process to split a wideband signal—up to 2 Gbps—into a great number of independent low rates services, in order to keep the receiver ICs complexity and price low, which is a mandatory requirement for a mass market adoption.
Then there's DVB-CID, a standardized key feature that helps satellite users and operators to quickly solve satellite interference problems. TeamCast has designed a complete solution (transmission and reception) which deals with this latest feature also called Carrier ID. Thanks to TeamCast's range of products, satellite users can easily check and prove that they are compliant with this new requirement which is becoming mandatory by regulation. TeamCast demonstrates first how its VYPER satellite modulator is adding the CID carrier to the transmitted carrier so that the resulting signal can be easily tracked and identified with proper receiving equipment. The demonstration also includes the use of TeamCast's brand new CID Receiver, which decodes the CID signal and allows operators to check and analyse carriers to ensure the DVB-CID signal is present and compliant with regulations.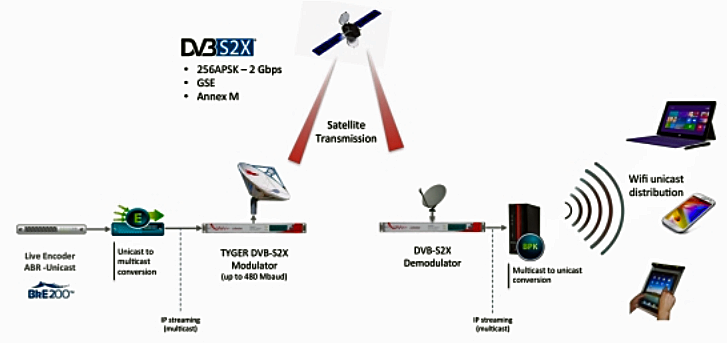 TeamCast and Broadpeak will be demonstrating an all IP, multicast and cost effective delivery of live video services via satellite to multiscreen devices at home as well as in public areas. Using the latest advanced features of DVB-S2X's Annex M (a process to split a wideband signal, up to 2 Gbps, in order to reduce receiver ICs complexity and price for a mass market approach) and being based on multicast ABR video delivery, the solution really offers a cost-effective way for distributing several thousands of live TV services to unicast devices at home as well as in public areas. At the head-end level, the demonstration involves a unicast to multicast converter from Broadpeak (BkE200), a wideband IP (GSE) DVB-S2X modulator from TeamCast (TYGER), while at the receiving point there is an IP DVB-S2X demodulator from TeamCast and a multicast to unicast converter from Broadpeak (nanoCDN multicast ABR) which feeds a wide range of devices via standard unicast WiFi connections.
TeamCast will be occupying booth #1940 at this trade show and invite all attendees to visit to view the technologies being presented by the firm.