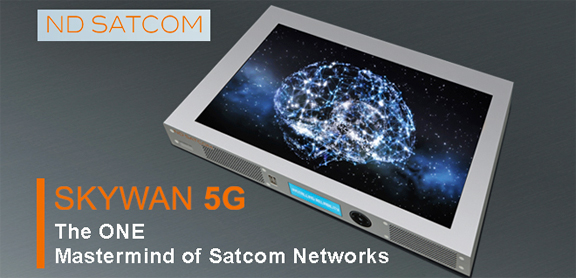 [SatNews] ND SatCom will be officially launching their SKYWAN 5G at the CommunicAsia in Singapore on June 2nd.

ND SatCom's SKYWAN 5G will transform the way communication networks are created and behave by converging VSAT and comprehensive IT capabilities into a single hardware device. SKYWAN 5G enables the most flexible, scalable and reliable VSAT networks in history. The all-in-one unit fits all topologies, plays any network role, like hub, remote or integrated in manpacks or flyaways and allows stacking of units to further boost performance of the network. Never before has a one rack unit VSAT hub been so powerful.

SKYWAN 5G includes an MF-TDMA modem with integrated DVB-S2 receiver and is capable of achieving significant data rates. Designed as an all-in-one device with high network redundancy and a wide range of IP support, the single device allows data to be transmitted in single-hop directly from their origin to their destination, thereby avoiding double hops and extra delays. Bandwidth is dynamically allocated as required, which brings substantial savings on satellite capacity cost.

No matter if a star, multistar, hybrid or full mesh network is needed, the unique hardware design of SKYWAN 5G reliably fits all topologies within the VSAT world. Following the approach of a single hardware unit for all purposes, each SKYWAN 5G has the full functionality on board. One small hardware for all network roles simplifies logistics and customs' handling and unprecedented scalability enables the gradual growth of the network.

The official presentation of the SKYWAN 5G will take place on June 2nd at 12:00 p.m. on ND SatCom's booth 1U2-03. Everyone is cordially invited to attend the festive launch of "The ONE – Mastermind of Satcom Networks".