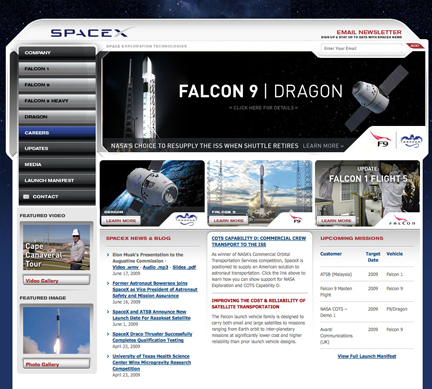 Steve Jurvetson and his DFJ partners have agreed to lead a major investment in space transportation provider SpaceX, PE Week (peHUB's sister publication) has learned — the round could be worth upwards of $60 million, and would include existing SpaceX backer Founders Fund.
According to
peHUB
,
Jurvetson
declined to discuss the specifics of
SpaceX
's financing. Regulatory filings show the company had raised $15 million toward a proposed $60 million round as recently as March.
Jurvetson
says that the round has either closed already or will close within the next 14 days. Executives at SpaceX were not available for comment.
The Hawthorne, California-based company has raised $112 million in funding since 2002, according to regulatory filings. Most of that financing has come directly from
SpaceX
CEO
Elon Musk
, who holds the title of CEO, CTO and founder of the company.
Musk
was an early investor in
Tesla Motors
, where he currently serves as CEO, and he was an early investor in
PayPal
, whose co-founders launched the
Founders Fund
. SpaceX is profitable, despite having only successfully launched one rocket into orbit, says
Jurvetson
. Customers pay the company for rocket missions 24 months before liftoff. The prices of the operations are based on the weight of the shipments sent into orbit. The company has four flights scheduled for 2009, including launches for Malaysian satellite maker
ATSB
and U.K.-based satellite broadband provider
Avanti Communications
. SpaceX has seven launches planned for 2010.