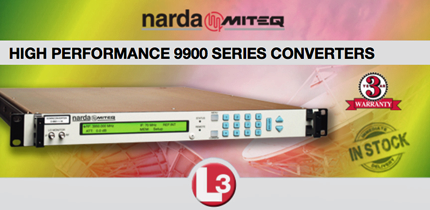 During the upcoming CommunicAsia2017, L3 Narda-MITEQ will be present at Level 1 in Hall C at booth E1Q3-01 to display their product families.
The company will be presenting their high performance 9900 series up and down converters that are available for C-, L- and Ku-bands. These converters offer:
• Optimized Phase Noise

• Optimized Amplitude Flatness
• Optimized Spurious Output

L3 Narda-MITEQ 9900 Series Converters provide transparent frequency conversion for all video and data applications. DBS-band is also available. Additional product information is available at this direct link...