Mirabilis Design has released their VisualSim Artificial Intelligence (AI)-driven Processor Generator for performance analysis and architecture exploration of System-on-Chip (SoC) and Embedded Systems.
The generated model is pipeline-accurate and has port integration with standard buses and memories. This processor model is used to compare different processor families, optimize the specification and identify system bottlenecks. The AI Processor Generator currently supports the entire ARM and PowerPC processor families. Additional support is planned for DSP and x86 architectures. The generator is available for viewing and experimenting at the ARM Techcon on October 17 to 18, 2018 in San Jose, California.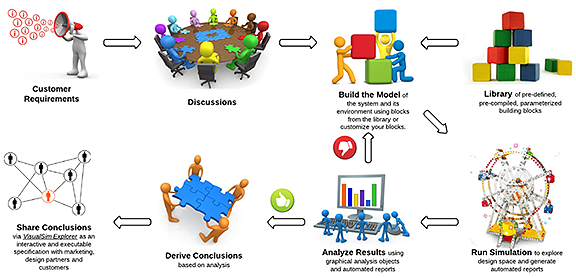 Mirabilis Design has used AI to identify patterns in more than 100 processors. Using these patterns, VisualSim AI Processor Generator has created a unique input spreadsheet. Using this input and the learning algorithm database loaded into the generator, existing and future processors models are generated. Data for the input spreadsheet is available in the vendor datasheet. The generated model supports variable processor pipelines, SIMD/MIMD, multi-thread, multi-level cache hierarchy, coherency, heterogeneous execution units, buffers and bus interfaces. The generated model has over 150 statistics for cache hit-ratio, stalls and utilization. The processor has probes to trace pipeline execution sequence, prefetch requests, interrupts and preemption.

Mirabilis Design has generated models for over 45 processors including
ARM: Cortex R4; Cortex M0, M1, M2, M3 and M4; A7, A9 and Cortex A8, A9; A53, A72 and A76
PowerPC: e500 and e600 cores: IBM Power 7, 8; and NXP- 7410, 8548, 750, 7447A, 8641D,
Coldfire: MCF5307BUM, MCF5475RM Floating Point Unit
RISC-V
Drive-PX
VisualSim Artificial Intelligence-driven Processor Generator has been available for the last six months to a limited number of current Mirabilis Design users. Commercial shipment will start in late October. The AI processor generator is available as an add-on to VisualSim Architect 18.3, the modeling and simulation platform. This product is used extensively in designing products from aircraft avionics to adventure cameras; and processors to safety critical systems. VisualSim Architect 18.2 is available on Windows, Linux, and MAC OS.