[SatNews] Comtech Telecommunications Corp. (Nasdaq:CMTL) has announced that their Santa Clara, California-based subsidiary, Comtech Xicom Technology Inc., received an order from a domestic integrator for $1.1 million for its new, Super-Power Traveling Wave Tube Amplifiers (TWTAs)—these high-tech amplifiers were first introduced at the Satellite 2015 show in March.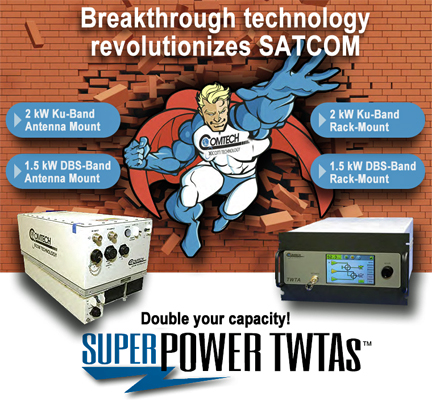 As shown on the Comtech Xicom Technology website, (http://www.xicomtech.com/index-superpower-twtas.aspx), the new Super-Power TWTAs offer twice the RF power of traditional TWTAs with only a small increase in size and weight, using equivalent prime power. This capability allows users to realize significant reductions in space requirements, power costs, and system complexity, with increased rain-fade margin, over systems using traditional TWTA products, and in particular over traditional systems using Klystron Power Amplifiers.
"We believe this order is the first of many we expect to receive," said Dr. Stanton Sloane, President and Chief Executive Officer of Comtech Telecommunications Corp.

Xicom representatives will be available for SATCOM providers and developers to discuss and obtain technical information on these and many additional amplifier products at the Comtech Xicom Technology, Stand #1T2-07, during the CommunicAsia2015 Conference and Exhibition, which runs from June 2nd through the 5th at the Marina Bay Sands in Singapore.