Please note that SatNews no longer provides the product or products listed on this page. If you have any questions please call 707-939-9306
Satellite Communications Publications

2017 INTERNATIONAL SATELLITE DIRECTORY - $495.00
The complete reference source for the satellite user or provider. Over 900 pages of data on the companies and services of the commercial satellite industry. Also included is "SatMaps" giving you all the maps (EIRP, G/T, SFD etc) of every commercial satellite and most other scientific and military satellites. - Revised Annually.

DATABASE & CALCULATION SOFTWARE

SATFINDER CD-ROM - $1,250.00
This CD-ROM is the complete database on over 500 satellites, 9,000 companies, 19,000 satellite executives and contains the most used calculation tools in the industry. With a very fast search ability plus hundreds of EIRP maps not published anywhere else, the tools section allows you to calculate link budgets, look angles etc. SATfinder has all the information you need to operate successfully in the satellite industry.

You get 4 CD's for $1,250 (the original plus 1 per quarter). You also get a free current edition of the International Satellite Directory (value $495.00)


TRAINING PRODUCTS

BASIC SATELLITE COMMUNICATIONS (DVD Format) - $495.00
Train a single employee on a personal computer or train an entire group. It's easy with the versatile DVD format. Subjects include: Introduction to Telecommunications - Polarization - Analog and Digital Signals - Modulation - Decibel Notation - Properties of Waves - Allocation of the Spectrum - Transmission Media - Amplification - Attenuation - Networks and Protocols - Digital Compression - TCP/IP etc.


LINK BUDGET ANALYSIS (DVD Format) - $495.00
Topics include: Transmission Theory - System Noice temperature - Power Levels (EIRP, G/T & SFD) - Satellite Footprints - Carrier-to-noise C/N, S/N and BER Considerations - Access & Modulation Methods - Path Losses - Receive Site Design - Link Budget Calculation - Tradeoffs - Digital Design Parameters - Practical Methods and Constraints - Performance Margins - Working With SATfinder Tools - Multiple Examples - Efficiency Considerations


SATELLITE SPACECRAFT (DVD Format) - $595.00
Topics include: History - Launching & Launch Vehicles - How Satellites Function - Environment of Space (Vacuum, Radiation, Meteoroids, Debris) - Satellite Orbits (Geosynchronous, Highly Elliptical Orbits, Low Earth Orbit) - Comparison of Orbital Advantages - Geosynchronous Transfer - Orbital Slots - Satellite Spacing - Satellite Structures (Spinners and Body-Stabilized) - Satellite Subsystems (Power, Antennas, Propulsion & Stabilization, Command and Telemetry) - Orientation and Stabilization - Station Keeping - Tracking, Telemetry and Control - Transponders - Power Amplifiers (TWTAs and Solid State) - Precipitation, Attenuation & Scintillation - Typical Satellites.


SATELLITE ENGINEERING AND DESIGN (VHS Format) - $595.00
Topics include: Satellite Communications Circuits, Satellite Frequency Bands, Channel Layouts, TV Video Standards, The Digital Revolution, Modulation Techniques, Maximing Use of Satellite Capacity, Access Techniques, Scrambling Methods, Earth Station Design Considerations etc.

EARTH STATION TECHNOLOGY (VHS Format) - $595.00
Topics include: Categories of Earth Stations, Feed Illumination, Antenna Gain, Noise Temperature, Antenna Sizes, Satellite Spacing, Cables & Connectors, Satellite Receivers, Terrestrial Interference, Digital Satellite Receivers, Link Equation, EIRP, G/T, Transmision Delay, Echo Effect Error Control etc.

BOOKS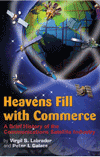 HEAVENS FILL WITH COMMERCE - A Brief History of the Communications Satellite Industry - $25.00
A brief overview of the significant events and major turning points that made the satellite communications industry what it is today. The book is written in a non-technical style and heavily illustrated by archival photos, graphs and diagrams.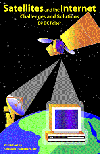 SATELLITES AND THE INTERNET - $45.00
This book is written for the satellite professional who wants to learn about the design of the Internet and the TCP/IP protocols. In particular, this book focuses on the background needed to understand and overcome the performance limitations of TCP/IP when running over satellite in order to be able to design a satellite-based IP network which can take best advantage of expensive satellite bandwidth.

DIGITAL SATELLITE TV - $60.00
A clear explanation of all aspects of worldwide digital satellite TV, this completely rewritten 5th edition of the classic book Ku-Band Satellite TV is expanded with sections on the Internet and data transmission, digital modulation methods, video and audio compression, MPEG-2 and DVB standards and much more.

For more information call SatNews Publishers at: Tel: (707) 939-9306 Fax: (707) 939-9235 or you can also reach us by e-mail at
orders@satnews.com