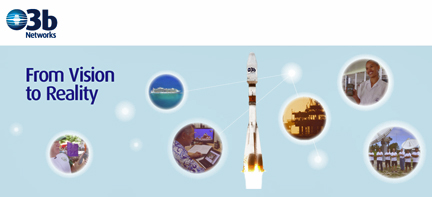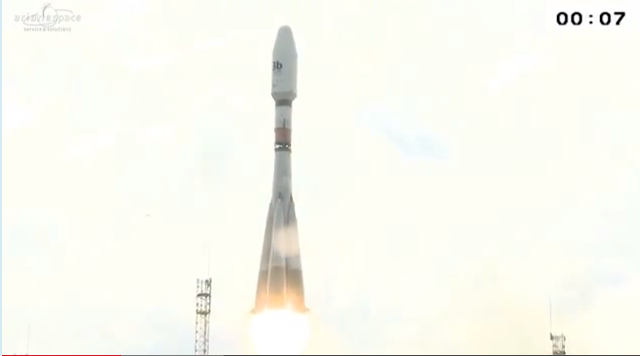 [SatNews] Le Centre Spatial Guyanais (CSG), Kourou, French Guiana: O3b confirms that its four satellites have been successfully launched from from the Space Center in French Guiana.
These satellites are the latest addition to the company's Medium Earth Orbit (MEO) constellation which are aimed at increasing broadband connectivity to the underserved populations around the world.
O3b CEO Steve Collar said: "We are thrilled at the successful launch of our satellites. They will now go through a period of in-orbit testing before being fully integrated into our network as we continue to bring customers up across the world. The exciting O3b journey continues and we are already looking forward to our third launch early next year."
O3b Networks Limited is a global satellite service provider building a next-generation satellite network for telecommunications operators, Internet service providers, enterprise and government customers in emerging markets. The O3b system will combine the global reach of satellite with the speed of a fiber-optic network providing billions of consumers and businesses in nearly 180 countries with low-cost, high-speed, low latency Internet and mobile connectivity. O3b Networks' investors include SES, Google, Liberty Global, HSBC Principal Investments, Northbridge Venture Partners, Allen & Company, Development Bank of Southern Africa, Sofina, Satya Capital and Luxempart. O3b Networks is headquartered in St. Helier, Jersey, Channel Islands.
Arianespace launched the satellites into a circular orbit at an altitude of 8062 km. Lift-off of the Soyuz ST-B launcher is scheduled for 15:55:56, local time (14:55:56 p.m. in Washington DC; 20:55:56 in Paris). O3b, a reference to the "Other 3 billion'' people on Earth who do not have broadband access, will complete its initial constellation with thi's launch, heralding the introduction of O3b's services on a global basis. The company, founded in 2007, is already providing services following the launch of its first 4 satellites in 2013 with spectacular results. The O3b system combines the global reach of satellite with the speed of a fiber-
optic network, removing the impact that satellite delay has traditionally had on the quality of satellite connections.
Steve Collar, the CEO of O3b said, "When we first envisioned delivering high-speed connections to the underserved populations around the world over a state-of-the-art satellite network, we knew this was a project that could dramatically improve people's lives. The response that we have had from our customers so far has been emphatic. They tell us that what we are bringing to the market is game-changing and this launch will enable us to provide that same game-changing service globally."
The O3b Networks infosite is located at http://www.o3bnetworks.com/