[SatNews] New Delhi Television (NDTV), one of India's most-watched TV news networks, has migrated its satellite uplink infrastructure from MPEG-2 to a complete MPEG-4 multiple-channel-per-carrier (MCPC) chain based on Thomson Video Networks' advanced encoding, MPEG processing, and transport stream (TS) monitoring equipment.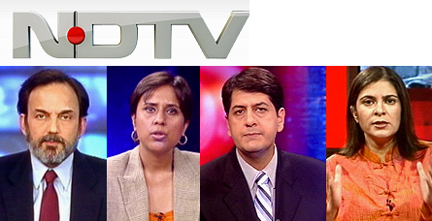 Driven by the award-winning ViBE™ EM4000 premium HD/SD encoder, NetProcessor 9030 MPEG processor, XMS network management system, and Granite Sentinel DTV monitor, the new MCPC chain replaces aging SD MPEG-2 equipment and provides an HD-ready platform to support NDTV's future technology requirements.
Dinesh Singh, chief technology officer, NDTV Ltd, said, "As a high-density encoder, the ViBE EM4000 offers eight SD/HD channels in a single rack unit to save space in our existing infrastructure. With our new, state-of-the-art uplink chain, both our customers and operators have seen marked improvement in both performance and picture quality, and we really appreciate Thomson Video Networks' technology and service support."
Eric Louvet, vice president worldwide sales, Thomson Video Networks, said, "With our latest-generation, EM4000 octo-channel platform, MPEG-4 encoding will enable NDTV to save significant satellite bandwidth that can be used later for HD programming. Since the EM4000 is HD-ready, migration to HD services is smooth and easy within the existing uplink chain."
Further information about the ViBE EM4000 and other Thomson Video Networks products is available at http://www.thomson-networks.com/.
NDTV's infosite is located at http://www.ndtv.com/