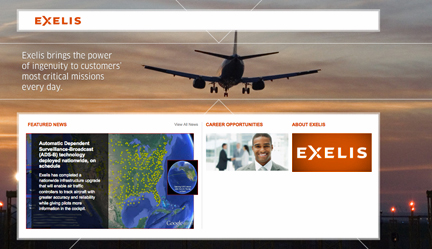 [SatNews] Exelis (NYSE: XLS) will highlight its industry-leading defense, security, and commercial solutions at the 2014 Farnborough Air Show in Farnborough, Hampshire, U.K., from July 14-20.

The technologies developed by Exelis solve customers' most critical airborne missions, including those in the military, government and commercial space. At Farnborough, Exelis will highlight its core capabilities and extensive expertise in the areas of EW (electronic warfare), composite aerostructures, critical networks, and ISR (intelligence, surveillance, reconnaissance) and analytics.Key Exelis technologies that will be highlighted at the show include:
Advanced Integrated Defensive Electronic Warfare Suite (AIDEWS) is an integrated radar warning receiver and radio frequency (RF) jammer that provides electronic countermeasures against modern airborne and ground-based RF threats. AIDEWS is offered in an internally installed (V)4 configuration, as well as in an external, hard-point fitted (V)9 pod. The air forces of Oman, Chile and Poland all fly the combat capable (V)4, while Pakistan and Turkey have both the (V)4 and the (V)9 for their new and legacy F-16s.
Missile Warning System (AN/AAR-60(V)2) is an advanced warning system that counters infrared-guided missiles, and has become vital for survivability. The AN/AAR-60(V)2 is a proven, true-imaging sensor device optimized to detect spectral radiation emitted from approaching missile exhaust plumes, allowing special operators to react early and appropriately.
ALQ-136 Helicopter RF Countermeasures System is a RF countermeasure system designed for rotorcraft. Initially developed in the 1990s for the U.S. Army Apache, Exelis has completed an overall technology refresh of the system providing mission enabling and helicopter self-protection capabilities. This upgraded capability will enable the Apache to operate in the new, littoral environments, as well as in the traditional land battle arena.
Network Electronic Warfare Capability (NEWC) is designed to allow any rotary wing platform to receive and transmit aircraft survivability, situational awareness and threat information as a networked application — enabling the sharing of critical information with several helicopters at once. In a constantly changing EW environment, advanced technologies are required to provide the warfighter with full-dimensional situational awareness to enable mission success.
AN/ALQ-214 IDECM Radio Frequency Countermeasure (RFCM) is the self-protection and mission enabling EW system for the U.S. Navy's combat aircraft – the F/A-18E/F, C/D. In 2009, Exelis received an award to upgrade this system with, among other improvements, a software-defined hardware architecture. This new system design, along with the ongoing software technology roadmap, ensures the U.S. Navy aircraft will be protected and effective against current and future threats.
Struts, Tubes and Rods (STaR) is a new product line that expands the company's aerostructures solutions to meet market demands for high-performance, light-weight structural hardware for commercial and military aircraft applications. Exelis will use patented design and manufacturing technology to produce a variety of composite hardware components under the Exelis STaR product line, including floor beam and wing box struts, control rods and torque tubes. Designed around the unique manufacturing technology, the Exelis STaR products offer rapid development and reconfiguration and provide higher strength-to-weight ratio versus traditional metallic parts.
SwitchPlusIP™ is an interoperable communications solution that is the leading-edge technology of Voice over Internet Protocol, with enhanced capabilities for mission-critical applications. This solution provides defense organizations with the ability to communicate reliably and securely across the seas or the skies, reducing the time needed to respond to threats.
The Exelis infosite is located at http://www.exelisinc.com/pages/default.aspx
For more information regarding the 2014 Farnborough Air Show, please visit http://www.farnborough.com/Public/