AtlanTecRF has launched their latest Ultra Broadband 500MHz to 20GHz Digitally Controlled PIN Attenuator.

This new product is part of AtlanTecRF's expanding range of ultra broadband microwave components and sub-systems designed for wide ranging applications in test and measurement, electronic countermeasures, scientific research and general communications.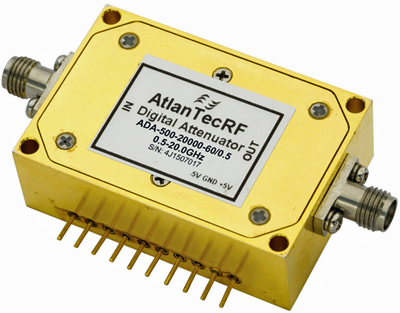 The new Digital Attenuator (ADA-500-2000-60/0.5) covers the entire frequency range from 500 MHz to 20 GHz and provides a minimum attenuation range of 60dB in 0.5dB steps with TTL control of 7 bits. Switching time is less than 200 nanoseconds and the input power handling capability is up to +25dBm. The miniature housing measuring just 45x30x12 mm is of gold plated alloy with stainless steel SMA female RF input and output connectors with DC and TTL control connections being made via solder feedthru's. The ADA-500-20000-60/0.5 operates from a +/-5V DC supply with less than 70mA total current draw and exhibits a VSWR of better than 2.0:1 over an operating temperature range of -40+70C.

In making the announcement from the AtlanTecRF engineering base in Braintree, UK, AtlanTecRF C.E.O., Geoff Burling, indicated that the company continues to expand their product range with high performance and ultra broadband products — this new PIN attenuator with digital control brings to system designers, in so many different applications, product affordability and versatility in a single package.