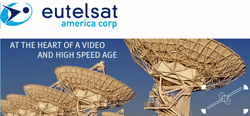 To provide Panasonic Avionics Corporation with added capacity to address growing customer demand for its inflight connectivity service, Hunter Communications and Eutelsat Americas, a subsidiary of Eutelsat Communications (NYSE Euronext Paris: ETL), have expanded their multi-transponder contract on the EUTELSAT 115 West B satellite.
Since the all-electric satellite entered into service in October 2015, Panasonic Avionics has been using the North American beam of EUTELSAT 115 West B through the company's arrangement with Hunter to provide customers with connectivity for domestic flights inside Canada, from Newfoundland to the Yukon. The additional capacity helps Panasonic address the growing demand from their customers on these routes.

Key to Panasonic's selection of EUTELSAT 115 West B was the satellite's performance, which comes from the beam having the highest power levels compared to alternatives, and an effective 4 degree spacing for most of Canada. This extra spacing allows for exceptional speed and cost performance that actually rivals HTS spotbeams.
Mike Antonovich, the CEO of Eutelsat Americas, noted that his company's 15-year relationship with Hunter has resulted in the broadening of the capacity available to Panasonic throughout the Canadian market. The agreement now announced reflects Eutelsat America's commitment to continue to give complete satisfaction and to offer competitive solutions that meet booming connectivity needs across established and new markets.
David Bruner, VP of Global Sales at Panasonic Avionics, added that this collaboration with long-time partners Hunter and Eutelsat is an example of his company's continued implementation of their ongoing plan to add substantial additional capacity to their global network, furthering the firm's mission of adding value to our customers and delighting end-users.
Brent Perrott, President of Hunter Communications, noted that EUTELSAT 115 West B's exceptional performance across Canada has provided the ideal technical solution for Hunter customers to expand their business through cost-effective alternatives as the beam reaches unprecedented power levels, which allow for a significant benefit in cost by Mbps.