[SatNews] An annual event that draws key financial players in the satellite and information business, ensconced in an elegant and historical setting location... Paris, France.
On the September 8-10, 2014 (with the Symposium on Market Forecasts taking place on September 11), over 700 of the most influential representatives of the global satellite communications and information business, top-level executives and senior government officials from the satellite communications sector will be coming together in Paris for a week of debates, deal making and networking. This is a Euroconsult Summit, the international consulting and analyst firm specialized in space markets including satellite communications and broadcasting, and Earth observation.
Here are a few points that make the Summit for Satellite Financing the unique event that you and your company shouldn't miss out on:

The Summit is the only event that is exclusively dedicated to the key decision makers of the global satellite communications business
Out of over 500 executive participants, 60 percent are VP level or above

Business meetings and deal making make up an integral part
The unique concentration of high-level participants from around the world combined with top-level social events and dedicated informal meeting areas reserved for conference delegates create an outstanding opportunity to network and hold business meetings.

A unique line-up of 80+ senior executive speakers
The series of round-table discussions and key note speeches featuring 80+ executive-level speakers allow you to gain insight into your customer's needs, competitors' strategies and current and future trends in technology development.

Executive speakers from 24 satellite operators, including 20 CEOs/Presidents, be welcomed as speakers
SES • Intelsat • Eutelat • Telesat • Airbus Defence and Space • Inmarsat • Iridium • Thuraya • Arabsat • Star One • Hispasat • Yahsat • APT • Gazprom Space Systems • Globalstar • DirecTV • Hughes Network Systems • ViaSat • O3b Networks • SCT (Mexico) • Arsat • Visiona Tecnologia Espacial • Azercosmos • Bulsatcom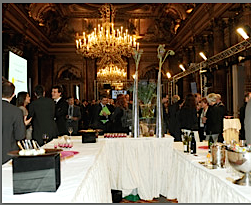 Statistics include:
Over 130 senior executive speakers
600 attendees representing 40 countries
95 percent of global satellite actors present at summit
60 percent of attendees are CEOs, MDs, CFOs or financiers
98 percent of delegates rated the summit excellent or very good
For more infomation, consult our website: www.euroconsult-ec.com
Summit for Satellite Financing
The Summit for Satellite Financing is the must-attend executive event for the satellite industry, where business leaders come together to gain market insight, strike partnerships and conclude major deals.

Hotels are filling up quickly
September is a very busy month for conferences in Paris and as such hotels fill up very quickly. A special rate is available for registered participants for rooms at the Westin hotel, but availability is limited. Register now to secure your hotel room. You can learn more and register here.