[SatNews] During IBC2014, Wohler will showcase the refined IP and multicast capabilities of the company's MPEG Series monitors, highlight the capabilities that have been newly added to the award-winning iON™ platform as well as the platform's improved speed and extensibility.
MPEG DVB-ASI and IPTV Monitors
Providing functionality critical for facilities migrating toward IP-oriented distribution networks, the MPEG Series monitors decode and provide convenient at-a-glance monitoring of program content from MPEG-2/4 ASI and Ethernet IP streams, as well as 3G/HD-SDI inputs. To meet broadcasters' increasing need for stream-based monitoring, the MPEG video monitors identify, decode, and display in high resolution MPEG-2 and MPEG-4 signals (input via BNC or Ethernet) while giving users the ability to browse the PAT, PMT, PID, EIT, and NIT data (both ATSC and DVB tables) for each selected stream. In addition to MPEG ASI and dual-input 3G/HD-SDI with loop-through, the MPEG monitors also accommodate audio with level meters, GPI, and tally. Convenient monitoring capabilities include Dolby Digital and Digital+ decoding, as well as the capacity to decode as many as 12 audio groups. In-picture level metering of up to 16 channels of audio is provided for both average and PPM (peak) levels with selectable meter scales.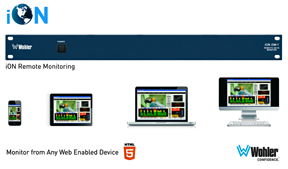 iON™ Remote Monitoring Platform
iON™ gives users the ability to access, control, and manage a broad range of signals and associated data remotely from any Web-enabled PC, Mac®, smartphone, or tablet device, with video and audio content streamed in real time. iON enables practical and highly efficient monitoring of baseband and stream-based signals, presenting monitored content in a browser for convenient review anywhere and anytime. Users can also add features and functions as their monitoring operations require.
Wohler DPP Packaging and Delivery Solution
Wohler has leveraged the powerful RadiantGrid Intelligent Media Transformation Platform" to address plans by major U.K. broadcasters to require that file-based deliverables be compliant with the new DPP (Digital Production Partnership) standard. This turnkey solution accelerates assembly, repackaging, and delivery of file-based content in the AS-11 UKDPP file format that is specified by the DPP standard.

AMP2-E16V Series Modular Audio/Video Processing Monitor
The AMP2-E16V monitor is operated with one-touch simplicity. In addition to its top-quality audio system, the monitor features simultaneous multiformat monitoring, quick program selection, instant stereo downmix, loudness monitoring, internal channel mixing including SDI re-embedding, and audio delays. The monitor also includes a wide variety of meter scales and ways to view meters, video, and Dolby or SMPTE 2020 metadata. The AMP2-E16V offers Dolby Zoom, Dolby E line position, and CRC error monitoring, as well as automatic system configuration based upon signal inputs, 32 complete system configuration presets, a complete internal help system, and Ethernet software updates. Audio processor card options facilitate easy configuration for multiple SDI, AES I/O, analog I/O, and connection to external surround systems. A new AVB Monitoring Option card allows AVB channels to be mixed, level-adjusted, and monitored alongside AES, SDI, analog, and other input types, and in the same fashion. Further enhancements include new processing modules and newly developed software that expand the feature set and capabilities to include loudness monitoring and extended audio interfacing.
The Wohler infosite is located at http://www.wohler.com/