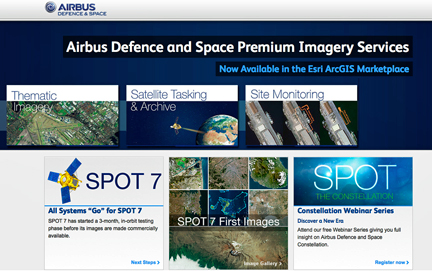 [SatNews] Airbus Defense and Space and Esri have developed three new Premium Content Services to provide ArcGIS Online users with an option to access Pléiades and SPOT thematic imagery, customized monitoring services, and for the first time on the ArcGIS Marketplace, users can directly task Airbus Defense and Space's optical satellites online.

These services will be launched this week at the Esri International User Conference, July 14-18 in San Diego, California. The developments have been done under the umbrella of an agreement both companies have signed in order to provide a new level of geo-intelligence imagery and services through Esri's ArcGIS Marketplace. The ArcGIS Marketplace is a destination where ArcGIS Online users can search, discover, and get apps and data from qualified providers for use within their organization. The Airbus Defense and Space Premium Content Services listed in the Marketplace will be available to ArcGIS users worldwide.

Thematic Imagery layers consist of 50cm natural color, orthorectified imagery in pre-packaged, themed datasets. As an example, airport imagery layers of Eastern Europe and the Middle East will be available as soon as the new services are launched. Thematic Imagery layers will be updated regularly, and brand new, themed imagery layers will be added to the Marketplace in the coming months.

ArcGIS Online users will also be able to order Pléiades and SPOT 6 (and soon 7) archive imagery with an easy-to-use Satellite Tasking and Archive app. The user simply selects an area of interest (AOI) and options for tasking and archive display on the screen. For the first time, the ArcGIS user can task one of Airbus Defense and Space' satellites, or select an image from the archive. Once acquired, imagery is automatically produced and delivered through the users' ArcGIS Online account.

Lastly, Airbus Defense and Space's Site Monitoring service offers a detailed analysis of change detection over pre-selected sites, or the users can choose their own site to be monitored. The collaboration between Esri and Airbus Defense and Space gives Esri users unique access to an extensive range of satellite imagery and services. This partnership will help to expand the overall Airbus Defense and Space distribution line of satellite imagery from DRS (Direct Receiving Stations) and resellers, to other GIS distributors.
For additional information regarding Airbus Defense and Space, please visit http://www.astrium-geo.com/
The Esri