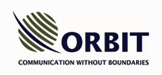 Orbit Communications Systems Ltd. (TASE: ORBI) has debuted their Aero Data Link (ADL) self-contained antenna tracking system.
Orbit's ADL consists of an elevation-over-azimuth positioner unit with a built-in tracking controller and a mounted directional antenna and data-link unit. The combined result is reduced SWaP (size, weight and power), optimized for mobile ground stations.
Orbit's ADL benefits:
Controller inside the positioning unit, connected by a single LAN cable
28V DC, instead of AC, eliminating safety issues
Slip ring accommodating 70 simultaneous circuits (double the previous version)
Full duplex, for full tracking and control capabilities
Sophisticated tracking algorithms
Compliance with MIL-standard 810F (mechanical/environmental) and 461F (electro-magnetic interference)
Whole system — including C-band directional antenna — mounted on base riser or tripod (during emergencies)

The Aero Data Link may be seen ISDEF 2017 at Orbit booth 9010 at ISDEF 2017, in Tel Aviv, Israel, from June 6 to 8.
Orbit CEO, Eitan Livneh stated that the company's Aero Data Link is the industry's first fully self-contained antenna tracking system. With it, Orbit is meeting the growing demand for aerial target tracking and control head on.