[SatNews] The Wideband Small Tactical Terminal (STT) (KOR-24A), co-developed by ViaSat Inc. (NASDAQ:VSAT) and Harris Corporation (NYSE:HRS), has been certified by NSA and is ready for delivery to U.S. and international military customers.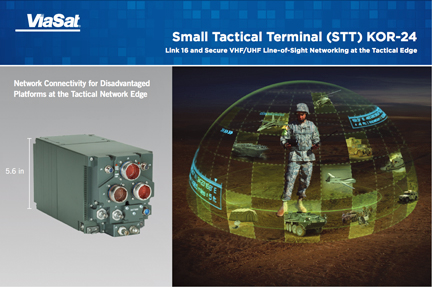 The two-channel KOR-24A is being delivered with a Link 16 channel together with the ability to simultaneously use the wideband UHF Soldier Radio Waveform (SRW) or Adaptive Networking Wideband Waveform (ANW2). Integration with multiple platforms is in progress and nearly 100 terminals are already on order.
Along with the new software-defined, wideband waveforms, the new STT includes narrowband VHF/UHF SINCGARS, HAVE QUICK, VULOS, and HPW, as well as Link 16. The enhanced STT is also backward compatible with approximately 150 previous-version STTs already in operation on a number of U.S. government and international airborne, surface, and ground-based platforms.
"This added capability brings the modern wideband UHF waveforms to a new set of users who want modern networking in addition to NATO and U.S. coalition standard Link 16 communications," said Ken Peterman, executive VP of ViaSat Government Systems Division. "The acceptance of the enhanced STT by the community has exceeded our expectations and confirms the need for this product."

Ed Zoiss, VP and general manager, Defense Programs, Harris Government Communications Systems, added, "Making the latest Falcon III technology and waveforms available to a broader class of space/weight constrained airborne, ship, and ground applications in the two-channel STT can meet the growing need for air-sea-ground information sharing."
The NSA infosite may be reached at http://www.nsa.gov/
For further information regarding ViaSat and Harris Corporation, please visit
https://www.viasat.com/government-communications/data-links/small-tactical-terminal
and
http://govcomm.harris.com/solutions/products/defense/stt/stt.asp.