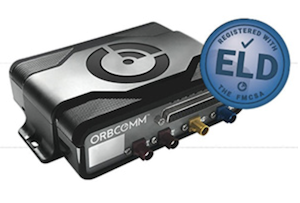 A major nationally recognized carrier based in Bangor, Maine has selected ORBCOMM Inc. (Nasdaq: ORBC), a global provider of Machine-to-Machine (M2M) and Internet of Things (IoT) solutions, to assist with solutions for their dry van fleet. Pottle's Transportation, LLC (Pottle's), will work with ORBCOMM's end-to-end telematics solution to provide wireless connectivity through its hardware and integrated Cloud-based analytics platform for efficient fleet management.
Pottle's is using ORBCOMM's trailer monitoring solution that features a high-sensitivity solar panel and built-in cargo sensor, along with its platform to manage its dry van trailers, resulting in gaining complete visibility and control over their entire fleet.

ORBCOMM's solution enables Pottle's to access live and scheduled status updates whether their trailers are in transit or in the yard, so they always know where their trailers are located and if they are empty or loaded, improving turn times and yard management while saving their drivers time and fuel. ORBCOMM's trailer telematics solution also provides Pottle's with the unique ability to see precise data to schedule trailer maintenance, inspections and time elapsed for increased asset utilization and performance. The ORBCOMM devices can be installed externally on trailers in about 10 minutes, even when the asset is loaded, making Pottle's deployments quick and efficient with minimal disruption to their operations.
In addition, Pottle's will utilize ORBCOMM's trailer telematics data with their McLeod Transportation Management Software (TMS) for a centralized view providing insight and is enhancing productivity throughout their entire organization.

Marc Eisenberg, Chief Executive Officer of ORBCOMM Inc. said that they are pleased to be selected by an industry leader such as Pottle's Transportation to launch their fleet-wide trailer monitoring program, which leverages ORBCOMM's advanced functionality, value-added services and deep expertise in transportation. ORBCOMM's ability to provide best-in-class telematics solutions for multiple transport asset classes through one integrated platform offers Pottle's a strong, long-lasting ROI and supports their plans for future growth and expansion into new markets.
Chelsea Pottle Demmons, Vice President of Pottle's Transportation added that trailer tracking is an essential tool for enhancing visibility, improving utilization and lowering costs, and ORBCOMM offers a solution that gives them all of those benefits through accurate locations and cargo sensing data. One of their main goals is to reduce the amount of time spent sending drivers into locations looking for empty trailers. They searched the market for a trailer monitoring system that meets all of their needs reliably and cost effectively, and they found it with ORBCOMM.