The U.S. Navy's Long Range Anti-Ship Missile precision strike system, know as LRASM, is entering an all-important integration and test phase — and ViaSat will be on-hand with a follow-on contract to provide the data links for the system.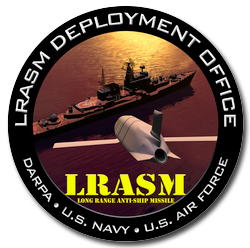 Being provided by the company to address the comms requirements for this U.S. Navy program will be ViaSat's Weapon Data Link L-band technology as well support for the flight tests and software improvements via the company's engineering departments. The technology from ViaSat requires but a minimal investment by the client and brings a form factor into the mix that is decidedly brought into the program with a reduced form factor.
Ken Peterman, SVP of ViaSat's Government Systems, noted that this follow-on contract validates his firm's approach to the datalink needs for weapon systems via the company's BATS (Battlefield Awareness and Targeting System) product family.