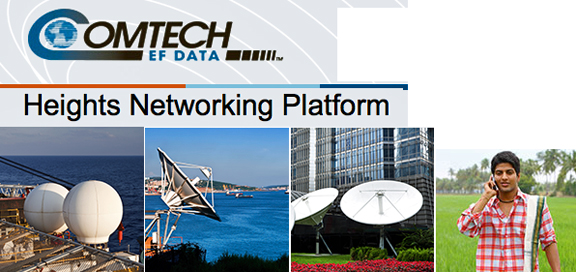 Comtech Telecommunications Corp.'s Tempe, Arizona-based subsidiary, Comtech EF Data Corp., which is part of Comtech's Commercial Solutions segment, has installed a Heights Network Platform for SES Networks' hybrid resilience solution.

SES Networks will use the Heights Network Platform to deliver high-availability services to their premium customers in the APAC region of the world. The fully-managed solution leverages the wide coverage of GEO satellites and low latency capabilities of MEO satellites to provide diverse network paths that are vital in the delivery of carrier-class services. When operational, this resilient solution will enable the use of the best choice path for traffic, whether an alternative path for all of the traffic, or for traffic of the highest value. SES Networks is the newly-formed data-centric business unit of SES, the world-leading satellite operator.
Designed with the service provider in mind, Heights is a scalable satellite networking platform that meets the evolving demands of a diverse multi-tenant end user community. It addresses the needs of all major market verticals with the most network efficient and powerful platform in the industry. Heights leverages a single comprehensive user interface teamed with a powerful traffic analytics engine that allows easy design, implementation, monitoring, control and optimization of networks.
Different market verticals benefit from implementing Heights by resolving many of the service challenges they face. There is the need to create service differentiation through supporting multiple business models on one platform to increase market share. Comtech EF Data's approach is to minimize OPEX through increased bandwidth efficiency to create new revenue streams, offer better value to customers, and control CAPEX through a scalable equipment platform to maximize profits. The company's solutions meet the increased market demand for higher throughput capabilities, support increasingly complex satellite networks, and dynamically provide global connectivity where and when customers need it.
Andy Lucas, the Senior Vice President of Satellite Market Verticals at Comtech EF Data, expressed how happy Comtech was to enable SES Networks to provide differentiated services via purpose-built satellite networking solutions that provide the Quality of Experience required across a number of demanding application mixes.