The Advantech Wireless Engage Class 2.4 meter Flyaway Dual Band, Dual Link VSAT System has received NATO European Customer as well as XTAR Certification.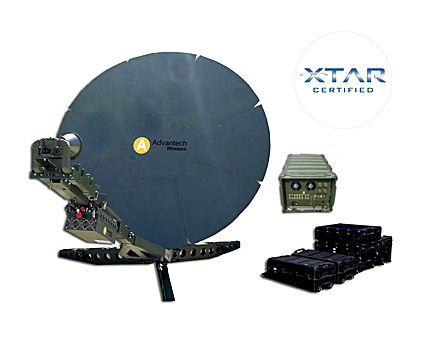 According to the company, their Engage Class 2.4 meter Flyaway VSAT Terminal Solution includes the most advanced SATCOM technology available today. This flexible and transportable VSAT solution is a fully integrated, tri-band system that is designed for easy deployment and use. The terminal is based on a high efficiency, ruggedized tri-band ready 2.4 meter Flyaway Antenna that can cover X-, Ku- or Ka-Band by replacing only the feed.
The antenna is optionally fully motorized with an integrated satellite finding controller. The terminal has built-in two independent unique triple access mode satellite modems based on the new ASAT II system or SCPC mode modems AMT-83L, Mil 165A Grade and DSSS Spread Spectrum Technology.
Join Advantech Wireless Team at MSPO, September 5-8, in Kielce, Poland, as well as at DSEI 2017, September 12 to 14, in London.