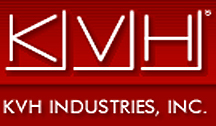 [SatNews] To meet growing bandwidth usage and Internet demand onboard its tanker fleet, RHL Hamburger Lloyd Tanker GmbH & Co. KG, of Hamburg, Germany, an international shipping company known for managing sophisticated, innovative tankers, has selected KVH Industries, Inc., (Nasdaq: KVHI) for its mini-VSAT Broadband satellite communications solution.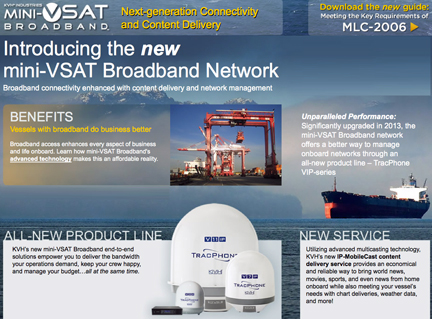 Twelve oil and chemical tankers will be outfitted with KVH's TracPhone V7-IP satellite antenna systems in the next month, with a potential for 16 additional container vessels to receive KVH systems.The KVH systems will be installed on sophisticated tankers known as Safety Chemical Oil Tanker (SCOT) 8000s, which are considered environmentally friendly because their advanced design is intended to minimize the risk of a spill.

RHL Hamburger Lloyd Tanker was heavily involved in the design and construction of the SCOT 8000 tankers, which are propelled and maneuvered by two separate drive systems and are built with a double hull; the tankers have a capacity of 8,000 tons.
KVH's TracPhone V7-IP is a 60cm (24 inch) diameter, enterprise-grade, 3-axis, gyro-stabilized antenna for Ku-band service worldwide. The system provides data rates as fast as 2 Mbps shore-to-ship, and 1 Mbps ship-to-shore, and high-quality VoIP phone service. TracPhone V7-IP is designed and optimized for mini-VSAT Broadband service, which is the market share leader in maritime VSAT, according to independent industry reports published in 2012. TracPhone V7-IP includes the Integrated CommBox Modem (ICM), a streamlined belowdecks unit that replaces the need for a rack full of components and integrates all antenna control, onboard network management, and modem functions in one small box. This makes installation fast and easy, significantly reducing deployment costs.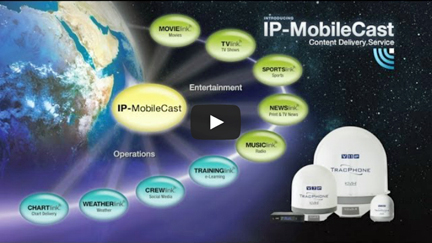 Onboard network management is increasingly important for commercial vessels, where there is a need to manage demand for broadband and ensure that operational data usage is prioritized. Maritime operators also face the challenge of complying with industry regulations such as MLC-2006, which was implemented last year and requires operators to provide crew welfare in the form of access to satellite phone and Internet services. KVH's end-to-end solution is designed to address those needs, and is unique in the maritime industry in that KVH designs and manufactures the TracPhone antenna hardware, operates the mini-VSAT Broadband network, manages the airtime service, and provides 24/7 global support. In addition, KVH is introducing a content delivery service, IP-MobileCast, for multicasting delivery of entertainment and operations content directly to subscribing vessels.
The KVH infosite is located at http://www.kvh.com/
The Hamburger Lloyd infosite may be visited at http://www.hamburger-lloyd.de/