Please note that SatNews no longer provides the product or products listed on this page. If you have any questions please call 707-939-9306
Satellite Spacecraft
1 Hour 16 Minutes - Price $595.00 - Rental $275.00
This DVD includes more then 24 new diagrams, over 8 minutes of new film material, 20 new pictures and over 15 entirely new animations - over one hour of high quality video instruction!
Topics Include: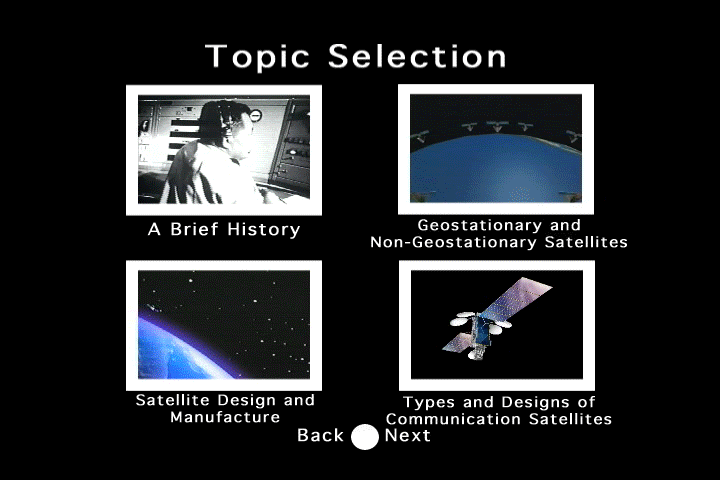 History
Launching & Launch Vehicles
How Satellites Function
Environment of Space (Vacuum, Radiation, Meteoroids, Debris)
Satellite Orbits (Geosynchronous, Highly Elliptical Orbits, Low Earth Orbit)
Comparison of Orbital Advantages
Geosynchronous Transfer
Orbital Slots
Satellite Spacing
Satellite Structures (Spinners and Body-Stabilized)
Satellite Subsystems (Power, Antennas, Propulsion & Stabilization, Command and Telemetry)
Orientation and Stabilization
Station Keeping
Tracking, Telemetry and Control
Transponders
Power Amplifiers (TWTAs and Solid State)
Precipitation, Attenuation & Scintillation
Typical Satellites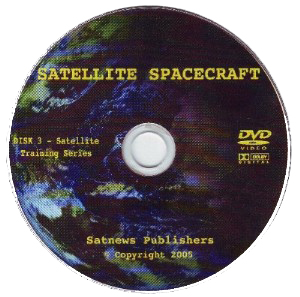 FOR MUCH LESS THAN THE COST OF SENDING ONE PERSON TO A SEMINAR you can now train an entire group or single employee on a personal computer. It's easy with this DVD.
This film will also save you money by re-training all your existing employees in new concepts and ideas, training new employees without all the additional seminar fee expenses, and save you hotel bills, airfares & travel time.
On-site demonstrations, leading experts in the satellite industry, high impact visuals of satellites, components, antenna and sub-systems, rockets, electronic equipment, etc. are all on video right in your own training room or on a PC in your office!
For more information call SatNews Publishers at: Tel: (707) 939-9306 Fax: (707) 939-9235 or you can also reach us by e-mail at
orders@satnews.com