Please note that SatNews no longer provides the product or products listed on this page. If you have any questions please call 707-939-9306
Heavens Fill With Commerce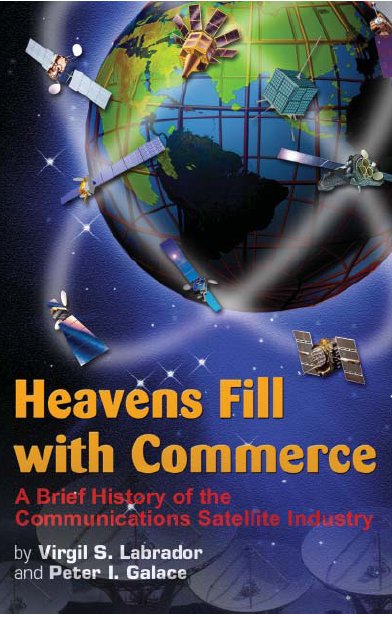 A Brief History of the Communications Satellite Industry
by Virgil Labrador and Peter Galace
Includes the full text of the landmark article 'Extra Terrestrial Relays' by Arthur C. Clarke
This book published by Satnews Publishers is the first book of its kind to cover the entire history of the commercial satellite communications industry from its visionary beginnings to the challenges that the industry is facing in the present millennium. The book traces the breakthroughs in scientific thought from Galileo to Newton that made possible the conception of the geostationary communication satellite propounded by Arthur C. Clarke in 1945. It covers all the major events that shaped the industry from Sputnik, to the formation of Intelsat and the road to commercialization and privatization of the industry that continues to the present.
The book, co-authored by Virgil Labrador and Peter Galace, is written in a non-technical style and heavily illustrated by archival photos, graphs and diagrams. It includes a select bibliography and appendices which includes a handy Historical Timeline reference and the full text of the original article by Arthur C. Clarke that started it all 'Extra Terrestrial Relays' which first appeared in Wireless World in October 1945.
The book is not meant to be an exhaustive and comprehensive history of the commercial communication satellite industry but a brief overview of the significant events and major turning points that made the industry what it is today. The book is an easy read and the reader can not only get a good historical perspective on a vital global industry, but also learn how the industry works.
Chapters include:
Genesis: In the Beginning was an Idea
From Vison to Reality
The Birth of a Global Industry: Comsat, Intelsat and Intersputnik
From Global to Domestic: Communications Satellites Go Local
Satellites and Development
Regulation and Deregulation
Enter Cable and Broadcasting
The Commercialization of the Industry
Competition and Consolidation
216 pages / 5.5" x 8.5" / Over 30 photos, tables and diagrams; with index, bibliography and appendices / ISBN: 0-936361-32-8
---
For more information call SatNews Publishers at: Tel: (707) 939-9306 Fax: (707) 939-9235 or you can also reach us by e-mail at
orders@satnews.com