Telesat Signs Long Term Contract with Bell Canada for All of Telstar 19 VANTAGE HTS Capacity Over Northern Canada
Once operational, Telstar 19 VANTAGE will have six distinct coverages over the Americas and North Atlantic and the most capacity in Gbps of any...
Full Story
A New Satellite Bus Bonanza Debuts from Lockheed Martin
From nanosats to high-powered satellites, the versatile lineup incorporates dozens of major enhancements and hundreds of common components that...
Full Story

Major Smallsat Agreement 'Tween Thales Alenia Space, Telespazio and Spaceflight Industries
The Earth Observation (EO) market is undergoing constant changes, with an increasing focus on requirements that combine high resolution and much...
Full Story
Kudos to Harris... One of Five Aerospace and Defense Companies That Values Their Employees
The company offers competitive benefits, including a discretionary time-off policy with no maximum.
Full Story
EchoStar 105/SES-11 Spacecraft Ships to Florida for Upcoming SpaceX Launch
... is a dual-mission satellite for U.S.-based operator EchoStar and Luxembourg-based operator SES.
Full Story
Major Industry Move — Northrop Grumman to Acquire Orbital ATK
The transaction is expected to close in the first half of 2018 and is subject to customary closing conditions, including regulatory and Orbital ATK shareholder approval...
Full Story
IEC Telecom Group Restructures to Better Address Maritime Markets
In conjunction with this reorganization, the board of directors has appointed Dominique Audion Group COO (Chief Operational Officer) Middle-East and Asia and Gwenaël Loheac, Group COO Europe...
Full Story
Iridium®'s 10 Satellites are Packed and Ready for NEXT Launch
this launch continues the ambitious deployment pace for the Iridium NEXT program, set to launch a total of 75 satellites on SpaceX Falcon 9 rockets.
Full Story
The Goal of ATLAS Space Operations and NASA is to Advance Commercial Space Technology Through New Partnership
ATLAS will be working alongside NASA Goddard Space Flight Center to advance the development of the ATLAS LINKS system, which is as a state-of-the-art...
Full Story
CPI Antenna Systems Division Welcomes Engineers Interested in Q/V-Band Engineering to their Forum at IBC
Antenna and amplifier experts will discuss the new requirements that Q/V-Band spectrum will place on antennas, amplifiers and network design
Full Story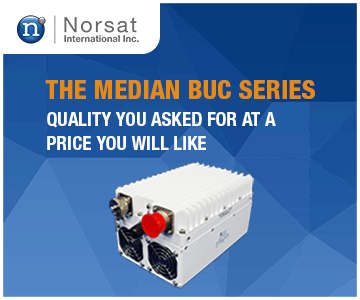 Norsat's Median BUC Series: Quality and Value in the Perfect Package

Quality you asked for at a price you'll like! The MEDIAN Series of Ku-band Block Upconverters (BUCs) are designed with both performance and economy in mind. This series provides unmatched linearity, making them ideal for VSAT, broadcast, maritime, and portable terminal applications. The MEDIAN series of Ku-band BUCs comes in 16W, 25W, and 40W options and is guaranteed by our two-year warranty. Norsat can also customize these BUCs to meet your needs. Contact us today for more information! http://www.norsat.com/median!

Satellite Constellations – the New Roles of LEO & MEO
As new LEO & MEO constellations spread across the skies, questions about threat or opportunity arise. Are the proposed constellations worth all the attention, and will they bring meaningful benefits versus GEO systems? What is involved in designing, implementing and maintaining a satellite constellation? How does operating a constellation differ from the more traditional satellite systems in terms of cost and usefulness? Join our panel of experts at the Satellite Innovation Symposium as they explore new constellations emerging in LEO & MEO.
Through a dynamic, immersive experience, the next generation of storytellers connects to progressive technology, innovation and thought leadership. Foster new content strategies to inform, educate and entertain from 300+ exhibitors, 50+ sessions across 4 on-floor stages, and 6 featured destinations. All while leveraging the power within the media capital of the world to focus forward on the next big thing

Maritime Information Warfare will focus on the growing need for navies to develop their information exploitation capabilities. As navies must now achieve strategic superiority in both conventional and asymmetrical conflict environments, knowledge is the new 'king of the battlefield'. The utilization of real-time data is key to ensuring mission success - whether it be combatting piracy or a technologically advanced enemy. 

The conference will look at the platforms used for data collection; ranging from open source data collection to more traditional ISR systems, and the ways in which that data is examined through big data analytics, ultimately to consider how this effects decision making in the field. 

It also captures the current movement within the naval domain - running off the back of the Royal Navy's 'Information Warrior', which is looking to expand its fleets data capture and utilize capability to achieve information superiority at sea. 

Early bird discounts! Register by 31st August to save $300 29th September to save $200 31st October to save $100