Top Stories
January 9th, 2017 — January 15th, 2017
SpaceX's Successes... Launches Iridium's NEXT Satellites and the Booster Returns
...the new satellites will be positioned near a current generation satellite, each moving at approximately 17,000 miles per hour as testing begins.
Full Story
Google Earth Images of Antarctica... Stairs to Where?
Some suggested it could be part of a pyramid structure, while others claimed the lines were tracks left behind by a UFO or...
Full Story
GEE What A Purchase... Global Eagle Entertainment Shops for a Satellite
"...we've actually done a deal with our largest supplier to purchase essentially an entire satellite."
Full Story
Pentagon Finally Launches Study... Future Needs of Military SATCOM
The objective is to inform future Pentagon decisions on military satellite communications.
Full Story
China Shares Satellite's Shots ...First Hi-Res Earth Observation
Zhang said that compared with foreign commercial Earth observation satellites, SuperView satellites have better resolution, accuracy and coverage.
Full Story
Alphabet Learns Their ABCs Attempting To Sell a Skybox to a Planet
...some jobs would be saved through attrition, employees of Terra Bella would move to Planet, and others may get different positions at Google...
Full Story
Eye Spy... Israeli Satellite Sees 'Stone' Russian Missiles
Heavy rains forced the Russians to move the missile systems, thereby exposing them to satellite photography.
Full Story
Top Teleports Tagged by WTA
The annual rankings of companies by revenue and revenue growth are compiled by surveying teleport operators around the world as well as referencing the published results of publicly-held companies.
Full Story
2017's SmallSat Symposium Simply Scintillating in Silicon Valley
With a new venue, the introduction of four new workshops and numerous new sessions those attending will be light years ahead of their small sat competitors.
Full Story
Capella Space's Cubsat Gets the Entire SAR Image Even Through Darkness and Clouds
Capella's satellites will be able to measure changes in the ground down to the millimeter level
Full Story
---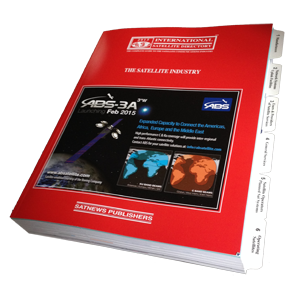 The Complete Guide To The Commercial Satellite Communications Industry
Updated annually with over 25,000 entries, this best selling 900 plus page reference source is a must for all satellite professionals. Includes online access to over 850 EIRP, G/T and SFD maps in full color.
Price: $495.00 - $50.00 = $445.00 + S/H
Searching for Satellite Data? - Opening up new markets? - Finding new customers? - Analyzing the competition?  Or do you just need that one last detail? Whether you are using, or need to be using "
THE INTERNATIONAL SATELLITE DIRECTORY
," our 32nd edition will certainly meet expectations!
The Directory is a comprehensive guide to the people, companies, products, services and the market of the booming 100 billion dollar satellite industry. With changes of all kinds affecting this dynamic industry, the Directory remains a powerful tool, mapping in detail an otherwise uncharted and complex segment of modern communications.
CLICK HERE FOR DETAILS
---
---
As nations improve and implement NEC capabilities across armed forces, join senior military leaders and leading defence innovators at SMi's Network Enabled Capability Technology 2017. Keep up-to-date on issues surrounding the demand for modernisation and digitisation of information, the growing need for networking unmanned platforms, and hear 9 Key International Programmes from Canada, Ireland, Italy, NATO, Netherlands, Norway, Sweden UK, USA, etc. Quote SMIZ8X6 to save $100 online.
http://www.networkenabledcapability.com/satnews


Since 2008, Global Space & Technology Convention (GSTC) has been Asia's Premier Space & Technology Event, providing a platform for latest technology in space engineering and a platform to access the growing Asian Markets. 
With the space industry estimated to be worth over US$290 billion, many Asian companies and agencies are deemed to be at the forefront of growth. Home to a majority of the global population, there is increasing demand for space-related services, and a strong push towards technology advancement and new applications.
Growth and development of the space industry in this region presents many untapped opportunities, and GSTC serves as a neutral forum for business-to-business networking and interaction. GSTC also continues to play an active role in bridging the gap between East and West.
Join us for the annual dinner at SATELLITE where SSPI inducts new members into the prestigious Satellite Hall of Fame.
The Hall of Fame Benefit Dinner is SSPI's biggest fundraiser. The money we raise supports our programs like Better Satellite World and New Century Workforce, our Next-Generation talent attraction projects, and our services for individual and corporate members. It is also the number-one place in our industry to see and be seen, and there are many ways to take advantage of that opportunity.