ViaSat-3 Satellite No Longer for Eutelsat's Use
As there was no binding agreement with Eutelsat for the ViaSat-3 EMEA satellite, Viasat's capital plan is not dependent on Eutelsat's participation to...
Full Story
Satcom Direct Communications to Provide Worldwide Voice and Data Connectivity for USG and DoD
The contract is also an important milestone in the military government market, as this will be the first U.S. government procurement contract in...
Full Story
Launch Base Testing of the USAF's CBAS Satellite is Completed and will Fly with the EAGLE in Mid-April
The U.S. Air Force is scheduled to launch the CBAS satellite and the Evolved Expendable Launch Vehicle (EELV) Secondary Payload Adapter (ESPA)...
Full Story
The First Android Satellite and GSM Smartphone Unveiled by Thuraya
The X5-Touch is the first satellite phone to run on the Android Operating System and is equipped with a 5.2 inch full HD touchscreen LCD. According to the company, this is...
Full Story
Inmarsat Becomes Prime for ESA's Govsatcom Precursor Project
The Inmarsat-led initiative will develop and demonstrate a pooling and sharing (P&S) platform that will enable European Government users and...
Full Story
Lasercom Tech for Satellites and Constellations Under Development by Mynaric and Leti
The collaboration centers on the next generation of Avalanche Photodiodes (APD) for telecommunication systems that will now allow for an improved...
Full Story
What's InSight in May for Southern Californians as ULA Atlas V Launches NASA's Interplanetary Spacecraft
On board the 189-foot-tall (57.3-meter) United Launch Alliance Atlas V rocket will be NASA's InSight spacecraft, destined for the Elysium Planitia region...
Full Story
SES GS Contracted by DoD to Provide SATCOM for U.S. AFRICOM
SES GS will be delivering a highly complex customized end-to-end solution, which will provide dedicated, flexible and secure connectivity to end users...
Full Story
A "No Go" for Astra Space's First Launch Attempt In Alaska
The launch would have been Astra's first and no timeline has been established for another launch attempt by the company, adding it's very...
Full Story
Comtech EF Data's SLM-5650B Modem Receives DoD Contract
The commercially available modems support satellite communications and interoperability across U.S. Navy platforms and shore sites. The contract...
Full Story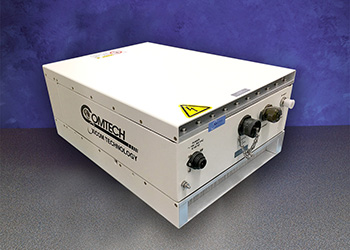 New Compact, Highly Efficient GaN Solid-State Ku-Band SATCOM SSPAs and BUCs
Comtech Xicom Technology, Inc. announces a new GaN-based Ku-Band solid-state power amplifier (SSPA) that packs a tremendous amount of power into a compact 48-pound (22 kg) antenna-mount outdoor unit (ODU). This highly efficient SSPA incorporates an optional L- to Ku-band block upconverter (BUC) and provides 200 watts of linear output power in package designed to handle tough environments and meet stringent Ku-Band RF requirements. Model XTSLIN-200K-B1 delivers 200-Watts of linear power across the SATCOM Ku-Band on only 1600-Watts of prime power draw, making it the most efficiently operating SSPA in the industry. The small package measures only 8-inches (H) x 14-inches (W) x 19-inches (L) and is designed for outdoor use in challenging environments. The size and weight advantages are particularly appealing for transportable requirements.

http://www.xicomtech.com/

GLAC 2018 is designed to encouraging the sharing of programmatic, technical and policy information, as well as collaborative solutions, challenges, lessons learnt, and paths forward among all nations with the desire to improve space applications and their usage. 
The GLAC 2018 will provide an excellent opportunity to review the state of the art of satellite-based applications, with a focus on: 
- Farming and fishing 
- Integrated risk management 
- Climate 
- Natural resources 
- Mapping 
- Legal Aspects (Legal Regulations)
Space Tech Expo will be returning to Pasadena for 2018. America's engineering and manufacturing meeting place for space technology grows bigger and better year on year, bringing together industry leaders, decision-makers and buyers to meet the engineering and manufacturing supply chain for commercial, civil and military space.