A Double Celebration as USAF's WGS-9 Launches on the Air Force's 70th Anniversary
What a day, a launch and an anniversary celebration for the USAF.
Full Story
Ongoing Launch Blockage — The Strike (A "Social Movement") Continues the Delay of an Arianespace Mission
The strike continues to hold up SGDC and KORESAT-7 departure...
Full Story
China Strives to Imitate SpaceX... Recover and Reuse Launch Rockets
China is developing a system to recover parts of rockets used in space launches to bring down costs and make its space program ...
Full Story
Pressure Mounts on Australian Government to Launch Space Agency
South Australia has a long history in the space industry, which started when the Woomera Test Range was established in 1947 about 450km north of Adelaide.
Full Story
Rocket Lab Raises $75 Million in Funding... Ready to Revolutionize Satellite Launches
Rocket Lab has received to date $148 million, with the company now valued in excess of $1 billion (USD).
Full Story
Payloads from US National Laboratory Research Prepped and Ready for Orbital ATK CRS-7 Launch
The ISS US National Laboratory is chartered to facilitate research in the microgravity environment that benefits life on Earth.
Full Story
Sarah Parker Named As Interim Group Manager Director by SSTL
Sarah Parker has been part of SSTL's team since 1997...
Full Story
Japan's New Satellite to Keep an Eye on North Korea
The Radar 5 unit was carried into space on Japan's mainstay H-IIA rocket from a launch site in the country's southwest.
Full Story
Flat Panel Antennas and the Connected World — An NSR Report
The surge in demand for connectivity-on-the-move has been a major trend for the satellite industry this decade...
Full Story
First Images from SBIRS GEO-3 Received
The Lockheed Martin team is also working to modernize the fifth and sixth SBIRS satellites under a no-cost contract modification for the US Air Force.
Full Story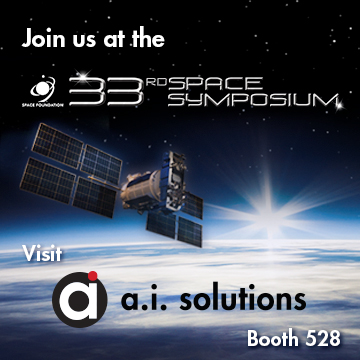 For more than 20 years and over 225 missions to date, a.i. solutions has supported the U.S. civil, commercial and defense space agencies, producing products and services that span space mission engineering, missile defense systems assurance, FreeFlyerŽ astrodynamics software, cyber and information assurance and launch vehicle services. Visit us at booth 528 during the 33rd Space Symposium to learn more about our products and services or to request a demo of our product suite.

Developed for SatCom and communication experts, MilSatCom Asia Pacific provides a perfect platform to network with and hear about the latest developments in national MilSatCom and space programmes from leading nations within the Asia Pacific region. The conference will enable you to enhance your SatCom capabilities for effective military communications.
The premier sourcing and knowledge ICT platform in Asia, CommunicAsia2017 will bring together a comprehensive display of cutting-edge technologies. With the convergence of technologies and the disruption of traditional business models, ensure that your business stays updated and ready to tackle future consumer demands.
Pre-register your visit to the exhibition at www.SatCom-Asia.com/NOW!

Space Tech Expo & Conference is the West Coast's premier B2B space event for spacecraft, satellite, launch vehicle and space-related technologies. The show brings together industry leaders, decision-makers, specifiers and buyers to meet manufacturers and the supply chain for civil and commercial space.