Possible Medium Sized Debris from Intelsat-29e Tracked by ExoAnalytic Solutions
Intelsat 29e had been in a geostationary orbit at 50 degrees West longitude until April 8, when the satellite began tumbling and drifting to the east. Both the...
Full Story
Satellite Research Center Launched to Advance the Australian Space Industry
The national SmartSat CRC will be headquartered at the University of South Australia and will bring together an A$190 million cash and in-kind...
Full Story
Helical Communications Technology Launches Their First Antenna for Hiber Satellite
HCT designed the custom-built "quadrifilar" helical antennas at their Rockledge-based operations and shipped them to the Netherlands, where...
Full Story
Space Foundation Reports on Space Industry in Conjunction with the 35th Space Symposium
The report is designed to improve understanding of the reach, impact and health of the space community and demonstrates how the economic and...
Full Story
Virgin Orbit Selects Guam as a LauncherOne Launch Site
With the site's remote location and close proximity to the equator, Guam serves as an excellent base of operations from which the company's...
Full Story
SpaceX Raising $500 Million from Investors
The company run by Elon Musk has agreed on financing terms with existing shareholders and new investor Baillie Gifford & Co., who will pay...
Full Story
India's DRDO Head Suggests Test Was Not a 'One-Off' and Outlines Counterspace Capability Ambitions
Reddy's comments suggest that its March 2019 ASAT test was not a one-off, at least under the leadership of current Indian Prime Minister Narendra Modi.
Full Story
UPDATE: "The Falcons Have Landed" Tweets SpaceX After Launch of Arabsat-6A and the Return of Falcon's Three Boosters
Last year's test of a Tesla sports car on SpaceX's heavy lift Falcon was bested today after a successful launch of Arabsat's communication satellite.
Full Story
Kacific Signs Agreement with Tonga Satellite Limited to Supply Broadband via Satellite
The bandwidth supplied by Kacific's high throughput satellite, Kacific1, will be used to connect communities in 89 remote outer islands with high-quality...
Full Story
RBC Signals Ensures an Increase of Space Communication Services for SpaceQuest's THEA and BRIO
Even though SpaceQuest operates its own ground station they engaged RBC Signals to increase the number of daily communication opportunities with their spacecraft.
Full Story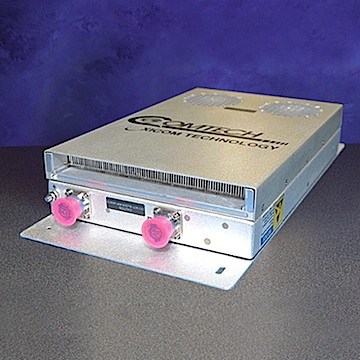 Comtech Xicom Technology provides a broad product line of KPAs, TWTAs, SSPAs and BUCs for worldwide satellite uplink covering C-, X-, Ku-, DBS-, Ka-, Q-band, Tri- and Multiband with power levels from 8 to 3,550 watts and available in rack-mount and antenna-mount ODU packages.

Comtech Xicom Technology  offers state-of-the-art Gallium Nitride (GaN) solid-state amplifiers for the fast-growing In-Flight Connectivity market. We have DO-160 in-cabin certified and cabin exterior certified designs. The high efficiency technology and advanced packaging techniques used enable industry-leading power density products that meet the tough environments of airborne applications. 

Xicom SSPAs and Block Upconverters (BUCs) for in-cabin ARINC-type and out-of-skin hermetic configurations support DO-160 requirements from category A1 to F2. Xicom Galli-um Nitride (GaN) SSPAs enable high-speed satellite connectivity for both airlines and travelers around the world. 
 http://xicomtech.com/applications-airborne


SMi Group is delighted to announce the return of the MilSatCom USA conference for its 4th annual year, set to provide a refined focus on the US communications market, and address how these critical programmes are developing. The two-day event will explore the resiliency of systems, their integration to ground terminals, as well as wider efforts to optimise bandwidth utilisation via international partnerships.