A Russian Satellite is Probably Stalking a U.S. Spy Satellite in Orbit
Back in 2017 Russia said its "inspection satellites" were for checking up on Russian satellites to closely examine damage or equipment failure with the intention of using ...
Full Story
Defense Contractors are Hiring for the Space Force: Here Are the Jobs!
... the release of the president's budget request which finally delivers unto the Space Force big dollars to do big things. And by big, I mean big: $15.4 billion.
Full Story
ISRO to Launch an Unprecedented 10 Earth Imaging Satellites
On a quick look, such a preponderance of the EO launches is unprecedented and includes new categories such as the first Geo Imaging Satellite, GISAT-1.
Full Story
Arianespace's Double Celebration ... Successful Launches for Japan and Korea and a 40th Anniversary
In one month, Arianespace has launched a total of 38 satellites. Three more launches are scheduled in March from the space centers in French Guiana ...
Full Story
Virgin Galactic Makes a Vital Move to Commercial Headquarters
This captive carry flight provided an opportunity for engineers to evaluate VSS Unity for more than three hours at high altitude and cold temperatures...
Full Story
New Satellite Manufacturing Facility is Opened by Mitsubishi Electric Corporation
Together with existing facilities, Mitsubishi Electric's combined annual capacity will increase to 18 satellites, up from 10 at present, which will...
Full Story
Space Force Wants $5B For Anti-Jam Satcoms
PTS is not a satellite per se, instead it is envisioned as a payload that uses a highly jam-resistant signal called the Protected Tactical Waveform (PTW).
Full Story
Forrester Reports: Intelsat Urged to Reject Spectrum Auction Proposal + Replacing IS-29e
The Appaloosa letter says the FCC's terms are "
manifestly unfair to Intelsat
" and that if the FCC does not come up with a better proposal, then Intelsat...
Full Story
Exotrail Secures Contract with AAC Clyde Space
Exotrail will provide propulsion systems for the two 6U cubesats that will be manufactured and delivered to orbit by AAC Clyde Space. The Eutelsat...
Full Story
China's First Rival to SpaceX Starlink Satellites Completes Key Test
... paving the way for more internet-beaming satellites that can complement 5G base stations on the ground, according to private Chinese aerospace ...
Full Story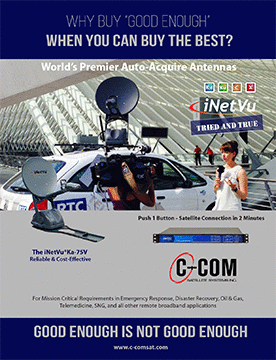 C-COM Satellite Systems – Providing The World's Most Trusted Auto-Pointing VSAT Products
• Vehicle-mounted Driveaway systems 
• Transportable Flyaway antennas 
• Backpack / Manpack terminals 
• Fixed Motorized (FMA) 
All iNetVu products are fully motorized and auto-acquire satellite in under 1 minute with just the push of a button. 
Ideal for Blue Light Vehicles, Cellular Backhaul, Broadcast, Oil & Gas, Military/Government, and vertical in need of mobile SATCOM.
http://www.c-comsat.com/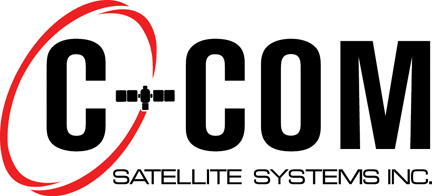 CABSAT now in its 26th edition presents SATEXPO, the only platform in the MEASA region bringing senior buyers in sat-comms, tech and business solutions together for 3 days under one roof. SATEXPO represents the entire ecosystem of satellite carriers, manufacturers, service providers and integrators serving government and military, maritime, aviation, broadcasters, Telcoís, commercial business enterprises or aerospace industries.
For more info visit www.cabsat.com