Russia Planning on IoT Constellation ... Gonets-2
...the proposal to create a system of remote sensing satellites to monitor natural resources and man-made processes. This task has been set to...
Full Story
Blue Canyon Technologies' Dozen Spacecraft Doing Their Various Jobs ... Success Results in a Larger Production Facility
As a result Blue Canyon Technologies has doubled in size over the past 12 months and will open a new 80,000-square-foot headquarters and production
Full Story
Virgin Orbit Signs an Agreement with ANA Holdings to Bring LauncherOne Service to Japan
The Memorandum of Understanding (MOU) charts out a long-term partnership between ANA HD and Virgin Orbit, further strengthening ties...
Full Story
Forrester Reports: Extra Funding For Intelsat and Eutelsat
...there's a huge difference in the interest rate costs. Eutelsat's interest rate is just 2.25 per cent (and the debt is due for repayment in July 2027). Eutelsat is...
Full Story
Another Successful SpaceX Launch ... Canada's RADARSAT Constellation from Vandenberg AFB
In addition, the Dragon's stage one plowed back through the fog, accompanied by a sonic boom, and landed securely on SpaceX's Landing...
Full Story
Ten Million Euros to Fund the First Demonstration of GLoT by NanoAvionics, KSAT and Antwerp Space
The funding is for the first demonstration of the pre-cursor stage of the Global Internet of Things (GIoT) smallsat constellation with one or more IoT/M2M...
Full Story
A New Fuel for Satellites Is So Safe It Won't Blow Up Humans
Hydrazine is a volatile fuel that will ruin your day—and perhaps your life—if you're exposed to it. AFM-315, on the other hand, is less toxic than caffeine,
Full Story
GigaSat and Inmarsat Provide Canadian Armed Forces with Satellite Terminals In Record Time
While the usual time period for supplying such an order is in the region of six to nine months, the DND terminals were built and delivered in just six weeks.
Full Story
Cloud Based System Designer for RF Over Fiber Links Intro'd by ViaLite Communications
The tool — which was designed and built in-house — uses a drag and drop approach, allowing users to select items from a pallet of components and...
Full Story
C-COM Gets to the Point @ CommunicAsia2019 with Auto-Pointing Antenna
Highlighting the latest in C-COM design is the iNetVu® MP-80-MOT, a fully motorized, auto-acquire, 1 meter carbon fiber manpack antenna. This...
Full Story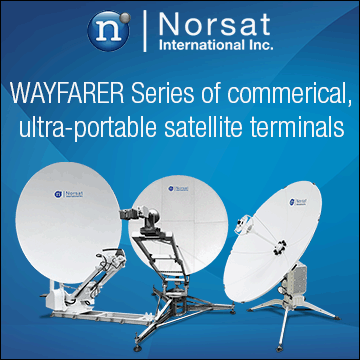 WAYFARER™ Commercial Terminals
http://www.norsat.com/wayfarer-series/
Norsat's WAYFARER™ series includes ultra-portable commercial fly-away satellite terminals, easy-to-deploy drive-away antenna systems and a fixed terminal solution. Products in this series are ideal for a variety of commercial applications including oil and gas, broadcast, mining, forestry, emergency response and remote enterprises. With fast setup and tool-free installation, these weather-proof antennas are equipped with a 1.2m or 1.8m composite reflector. Visit Norsat's booth #IT4-01 at CommunicAsia, Singapore to view a live demo of the WAYFARER Series.

12-19 September 2019
RAI, Amsterdam, The Netherlands

The IBC Conference is an unrivaled global destination for discussion and debate about the many different challenges facing the electronic media and entertainment industry, both in its sessions and in the range of networking opportunities it affords. 
The IBC Exhibition covers fifteen halls across the RAI, hosting over 1,700 exhibitors and a number of specially curated feature areas and events that tie into the IBC Conference to enrich your understanding of technologies and trends that are driving the industry.