Top Stories
July 17th, 2017 — July 23rd, 2017
NASA and Boeing Feel the Pain ... Admit Damaged Antenna on the TDRS-M Satellite
... officials aren't committing one way or the other as to whether the damaged antenna will delay the launch.
Full Story
International Institute of Space Commerce's New Executive Director a Veteran of Human Space Flight
"My dream is to help as many people achieve space flight as possible, and to have a good portion of them make money doing so."
Full Story

ESA's Sentinel-2B Reveals Mount Vesuvius Erupting With Wildfires
This huge plume of smoke led some to believe that Vesuvius was erupting again.
Full Story
JAXA Plays Ball on the ISS With Int-Ball Drone Camera
It's the first camera drone that can record video while moving in space under remote control from the ground.
Full Story
Taiwan - FORMOSAT-5 Ships to Vandenberg AFB for SpaceX Launch
This is the first remote sensing satellite designed, manufactured, and controlled by the NSPO and domestic teams and the satellite succeeds...
Full Story
Russia's Record ... Launches 72 Small Satellites
Russia has never launched such a large number of satellites simultaneously.
Full Story
Quantum Satellite Able to Do What All Never Thought Possible — Teleportation
In both cases, this was the first time these functions were performed in space and, therefore, represent a step toward quantum communications...
Full Story
Arianespace's Vega Will Deliver Twins ... Set For August 1, Earth Observation Payloads
Vega is prepared for the twin Earth observation payloads to be orbited on Arianespace's August 1 mission
Full Story
Norway's Microsatellites Report Back as Healthy ... Built by Space Flight Laboratory
NORsat-2 will be the first satellite to provide VDE services to Norway.
Full Story
ASTROSCALE's Satellite is a Kind of Magnetic Garbage Can
"Space is filled with trash, and if things continue as they have, space exploration will no longer be sustainable."
Full Story
---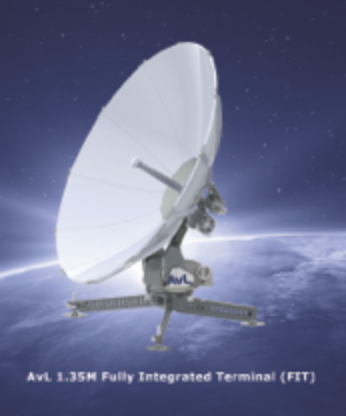 AvL Technologies
IBC 2017 Hall 5 Stand 5.A45
www.avltech.com
AvL Technologies' stand at IBC 2017 will feature our newest line-up of flyaway antenna systems - the Family of Integrated Terminals (FIT).  The FITs are designed to accommodate current and future modem, RF and satellite frequency options.  On display will be aperture sizes - 1.35m, 0.98m and 0.75m. This new line of user-configurable, IATA checkable and carry-on satellite terminals are ultra-compact, ultra-lightweight, ultra-high performance fully integrated systems, which can be upgradeable from manual-point configuration to a motorized, auto-acquisition platform.
Additionally, we will have a 1.2m O3b MEO tracking Ka-Band antenna on display. The antenna offers the power of O3b's high throughput, low latency connectivity. These tactical terminals operate in tandem pairs (same size) with make-before-break communications and can be set-up and on-the-air within two hours.
A new addition to the O3b family - the 0.70m rapid re-trace, a single lightweight antenna with a <7 second retrace enabling re-sync without disruption.
Also displayed will be our 85cm auto-deploy fully-integrated flyaway system, featuring a mission-configurable weatherproof electronics enclosure and the latest power efficiency technology, a 1.2m SNG vehicle-mount antenna Ka-Band antenna with swappable feeds and our 1.0m vehicle-mount Mobile VSAT antenna with a cowling.

---
---

Defense Strategies Institute's GEOINT and Open Source Analytics Summit allows US military commands, government agencies, academia, and technology providers the opportunity to have an in-depth conversation about the future of open-source technologies in the GEOINT landscape. The Summit seeks to find solutions to the challenges promoted by the integration of open-source geospatial imagery with classified sources in order to provide the IC with the highest quality GEOINT data available.

The summit will provide a forum to address and improve internal and external initiatives, meet with and hear from partner organizations, disseminate vital capability requirements to industry, increase visibility within the larger community, and generally support their mission. This educational summit enables the Intelligence Community, military intelligence organizations and the private sector to come together to address the latest efforts to improve the quality, availability, and analysis of geospatial and open source intelligence.

At MILCOM, global military communications professionals face command, control, communications, computing, intelligence, surveillance and reconnaissance (C4ISR) challenges head on. They look at them from every angle and discuss them from end to end - research and development through future needs. The conference allows industry the opportunity to hear and understand the requirements, pace of change and state of play in a variety of C4ISR markets serving the military, federal agencies and multinational entities. The MILCOM 2017 theme, Military Communications and Innovation: Priorities for the Modern Warfight, captures the importance of attending this event. The competing priorities of speed, security and cost must be addressed to ensure success in the cyber domain. The challenges are many; accelerating innovation to the warfighter is a key enabler to meeting our nation's toughest mission requirements.
The 2nd International Communications and Information Technology Exhibition & Conference
Communic Indonesia attracts leading industry professionals from Indonesia's lucrative tourism and hospitality sector, making it the recognised platform to network and meet potential buyers.
Find out more from www.communicindonesia.com.