Arianespace Incoming and Outgoing... Receives Two New Sats and Successfully Launches VA235
This is Arianespace's second launch of 2017, and first launch of Ariane 5 this year to send off SKY Brasil-1 and Telkom 3S.
Full Story
Rocket Lab Milestone Successfully Completed — Electron Arrives at Rocket Lab Launch Complex 1
Over the coming weeks, a series of tests and checkouts will be conducted at the site before the rocket, named
It's a Test
, is signed-off to fly.
Full Story
Final Testing of NASA's TDRS-M Satellite has Started
The network consists of TDRS satellites that transmit data to and from ground stations on Earth for NASA missions and expendable launch vehicles.
Full Story
Orbital ATK's New Involvement with USAF's STPSat-6
The multipurpose satellite will operationally demonstrate advanced communication capabilities, collect space weather data and...
Full Story
China to Launch Satellite to Detect Lighted Structures at Night... Photos Clearer than US Satellites
A professor at the Chinese Academy of Sciences, said that images taken by Luojia-1A will be clearer than those by US-developed satellites.
Full Story
Polish Firm to Have First Smallsats Ready for Orbit by 2018
The company was founded in 2016 and totally owned by Polish concerns
Full Story
Bringing HD Video via SATCOM to Rotary Aircraft is a Hughes DISD Tech Advancement
This new advancement in SATCOM technology integrates the Hughes HM200 airborne modem and two lightweight antennas mounted on top...
Full Story
Internet of Things Services Using Space Capabilities... A Funding Opportunity
IoT is already used in many parts of daily life: human-centered applications related to...
Full Story
Electric Propulsion for OBH's SmallGeo Satellite Platform
"Electra" is based on the SmallGEO program developed with the European Space Agency (ESA) and the German Aerospace Center (DLR).
Full Story
Laser Comms Scheduling for BridgeSat from Orbit Logic
Orbit Logic will use their product as the core scheduling engine for the BridgeSat solution...
Full Story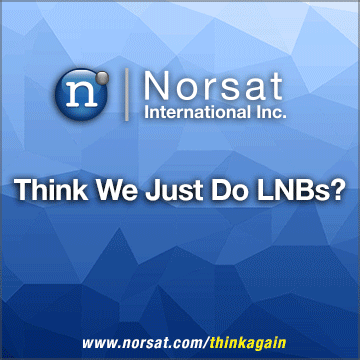 Norsat is the world leader in LNB's….and we are so much more than that! Norsat's products include customizable microwave components, portable satellite systems, maritime solutions and baseband kits. Drop by booth # 2206 at Satellite 2017 to see the GLOBETrekker 2.0, the world's most intelligent fly-away terminal and the high-performance, ultra-portable Journey Manpack, as well as Norsat leading ATOM BUC series and premium performance LNB line.

Join us for the annual dinner at SATELLITE where SSPI inducts new members into the prestigious Satellite Hall of Fame.
The Hall of Fame Benefit Dinner is SSPI's biggest fundraiser. The money we raise supports our programs like Better Satellite World and New Century Workforce, our Next-Generation talent attraction projects, and our services for individual and corporate members. It is also the number-one place in our industry to see and be seen, and there are many ways to take advantage of that opportunity.
DSI's DoD Unmanned Systems Summit is designed as an educational and training "Town Hall" forum, where thought leaders and key policy-makers across military and civilian organizations can come together for actionable discussions and debate. The Summit will offer a full spectrum viewpoint towards air/land/sea systems.


The conference is an amalgamation of research professionals from universities, Space centers, research labs, policy makers, government bodies, spacecraft industries and other space research organizations creating an atmosphere conducive for information exchange between academia and industry. Participating at Satellite 2017 will provide an exceptional opportunity to interact with world-class scientists and research technicians in the field creating a channel for collaborations and partnerships.