ISRO Launches Spy Satellite and Nine Foreign Ride-Along Satellites
Indian Space Research Organisation successfully launched their nation's latest spy satellite RISAT-2BR1 along with nine foreign satellites from ...
Full Story
Advantech Wireless Technologies' Specialized C-Band 5G Filter
... has released a specialized filter which will prevent 5G base stations from interfering with C-Band satellite signals.
Full Story
Blue Origin's Twelfth Successful Launch ... Prepping for People Passengers in 2020
"Congratulations to our New Shepard team. Look at that capsule. Man I wish I'd been on board today!"
Full Story
Maxar Completes Palo Alto Real Estate Sale for $291 Million
The Company will use the proceeds from the real estate sale and the senior secured notes offering (upon release from escrow) to repay all of the...
Full Story
High Level Takeaways from the Second Annual Morgan Stanley Space Summit
This event included participation from a range of private and public space companies, regulators and investors, with discussions centered on national...
Full Story
Space Fence Nearing Operational Acceptance by U.S. Air Force
Space Fence will use its flexibility, coverage, and sensitivity to detect and accurately track significantly more objects than the current-day catalog...
Full Story
Inmarsat Launches Fleet LTE and Delists from the London Stock Exchange
The new service leverages low latency, high data speed communications available via a dedicated Access Point Name (APN) on the Tampnet North...
Full Story
Comtech Xicom Technology's $1.3 Million U.S. Army TWTA Order
The Ka-band TWTAs ordered for this U.S. Army application are part of Comtech Xicom Technology's high efficiency TWTA product line and will be...
Full Story
Bonding: TriSept and Satellite Applications Catapult
As part of the collaborative alliance, the two companies will leverage their complementary strengths to package TriSept's deep launch integration...
Full Story
Arianespace's New Senior VP of Brand and Communications ... He Comes from OneWeb
...he was Director of Corporate Communications at OneWeb, where he implemented a 360 degree communications strategy for this startup ...
Full Story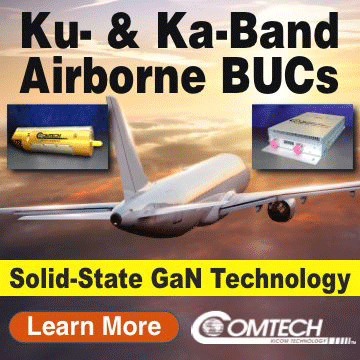 Comtech Xicom Technology provides a broad product line of KPAs, TWTAs, SSPAs and BUCs for worldwide satellite uplink covering C-, X-, Ku-, DBS-, Ka-, Q-band, Tri- and Multiband with power levels from 8 to 3,550 watts and available in rack-mount and antenna-mount ODU packages.

Comtech Xicom Technology offers state-of-the-art Gallium Nitride (GaN) solid-state amplifiers for the fast-growing In-Flight Connectivity market. We have DO-160 in-cabin certified and cabin exterior certified designs. The high efficiency technology and advanced packaging techniques used enable industry-leading power density products that meet the tough environments of airborne applications. 

With over 2,000 units delivered, Xicom SSPAs and Block Upconverters (BUCs) for in-cabin ARINC-type and out-of-skin hermetic configurations support DO-160 requirements from category A1 to F2. Xicom Gallium Nitride (GaN) SSPAs enable high-speed satellite connectivity for both airlines and travelers around the world. 


The latest projections show that within 10 years, non-geo Satellites will be responsible for the majority of the Satellite industry's revenue. The SmallSat market is taking over, and for the 5th year leaders driving this trend will gather in Silicon Valley to discuss the latest technologies and market dynamics at the must-attend 2020 SmallSat Symposium.