First Launch for the Re-Organized Sea Launch Should be Expected to Occur in 2019
Ukraine's Yuzhmash, the producer of Zenit launchers, earlier reported they would deliver the first two carrier rockets for the Sea Launch project in...
Full Story
Major Investment Announced for the UK's Goonhilly Earth Station
Under a new project announced today by the Cornwall and Isles of Scilly Local Enterprise Partnership (LEP), Goonhilly will be upgraded to enable...
Full Story
Iridium Entrusts COMSAT to Provide Iridium's Certus Satellite Broadband Connectivity to the DoD
securely, and cost-effectively connects remote assets to U.S. command and control centers from anywhere including Arctic and Antarctic regions.
Full Story
Avanti Communications' HYLAS-4 Satellite Arrives in French Guiana for Arianespace Launch
The spacecraft, built by Orbital ATK, was packed and shipped at their Satellite Manufacturing Facility in Dulles, Virginia, United States, and...
Full Story
GATR's TRAC Antenna is Positioned for Widespread Use, According to the U.S. Air Force
support from the U.S.A.F. Small Business Innovation Research/Small Business Technology Transfer Program and the Air Force Research Laboratory
Full Story
Marlink's Sealink VSAT Speed Doubles
Providing even faster connectivity and more bandwidth for business operations and crew onboard when network capacity is available, the new...
Full Story
Hispasat's Multi Million Dollar Agreement with Gilat ... Potential for Tens of Thousands of VSATs for Broadband in Mexico
services such as broadband internet services, WiFi connectivity in semi-urban and rural locations, and mobility applications to government and private sector
Full Story
Arabsat-6A Satellite Assembly Completed by Lockheed Martin for Arabsat
Arabsat-6A is part of the two-satellite Arabsat-6G program for Arabsat and is the second of Lockheed Martin's modernized LM 2100 series satellites to...
Full Story
34th Space Symposium's 2018 Space Technology Hall of Fame® Inductees are Aluminum Alloy 398 and Miniaturized Laser Terminals
Mynaric's key contributions are miniaturized laser terminals that can be produced and sold at scale and which are
Full Story
Advantech Wireless RF and Microwave Divisions to be Integrated into the Baylin Technologies Group of Companies
This Baylin Technologies acquisition of Advantech Wireless Technologies Inc, will allow the company to extend the firm's product line as well as...
Full Story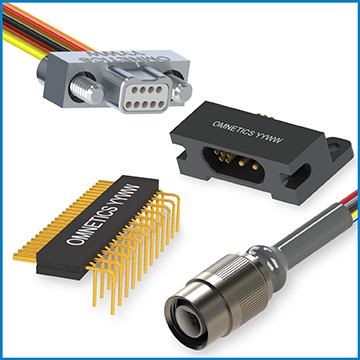 Lighter, smaller, and faster connectors from Omnetics Connector Corporation are optimized for space and satellites. Omnetics manufactures Micro and Nano connectors available in Circular, Strip, and Hybrid form factors in addition to Mil-spec Micro-D connectors (MIL-DTL-83513), Nano-D connectors (MIL-DTL-32139), wire harnesses, and cable assemblies. Omnetics connectors are ideal for space applications where reliability, durability, and reduced weight are key. Omnetics' miniature connector solutions can be tailored to meet your application's requirements.

On March 13, Datapath will host the SSPI Hall of Fame Celebration co-hosted by the Smithsonian's 
National Air and Space Museum
 in Washington, DC. This private, invitation-only event will feature a grand reception in the Boeing Milestones of Flight Hall with access to the Museum's outstanding exhibits, and the exclusive 
Chairman's Reception
 for C-Level executives of the industry.
The 6th Annual DoD Unmanned Systems Summit encourages members of the DoD, US Government Military Services, and critical organizations to come together to discuss the significance of UxS across multi-domains. Due to the effectiveness and practicality of UxS, particularly in contested environments, our military is able to successfully fight and win. This program will facilitate discussion surrounding near-term initiatives of UxS and capabilities focused on enhancing interoperability amongst systems to ensure mission success.nt.