Orbital AI is the Stated Goal of Hypergiant Industries as the Company Launches Their Galactic Systems Division
In its first step toward realizing this vision, Hypergiant Galactic Systems has acquired Satellite & Extraterrestrial Operations & Procedures (S.E.O.P.s), a...
Full Story
Head of Australian Space Agency Has a Vision and She Shared Her Plans
"We access many of the positioning satellite systems that are available…but we did not have world-class positioning.
Full Story
Forrester Reports: Belgium Puts Inmarsat Questions to EU Tribunal
A Belgium Court of Appeal's Market Court ruled on January 23rd that it wanted greater clarity on two specific legal questions and has asked the higher...
Full Story
What's NEXT After Iridium's Retiring COO... the New COO is Returning ... She Comes from OneWeb
Iridium NEXT was a once-in-a lifetime opportunity, and I'm proud to have played my part in bringing such an extraordinary system to life.
Full Story
SatixFy Debuts the World's First ESMA Antenna at the SmallSat Symposium
The ESMA antenna can serve both as a stand-alone IoT terminal or a building block for a larger sized antenna and is currently available in...
Full Story
Full Story
The New Space Force Enjoys an 'Uptick' in Satellite Spending
The U.S. military and intelligence community's appetite for satellites and gear is growing, and the reorganization dubbed Space Force may boost it further.
Full Story
Prometheus: The Engine that Could ... or Will ... Demonstrate the Future Passes Its Definition Review
the first two examples of the very low cost engine demonstrator, which uses liquid oxygen and methane technology and is potentially reusable.
Full Story
UK Space Agency's Case Studies of Oxford Space Systems, Spire Global, and Thales Alenia Space's Healthy Growth
Beyond the direct effects of the space industry, the satellite services industry supports a wealth of other sectors worth an estimated £300 billion...
Full Story
On the SmallSat Symposium Show Floor: KenCast to Demo Their Fazzt Platform
The current dramatic changes — in satellite (HTS GEO, MEO, and LEO constellations) and terrestrial networking and cloud storage — bring new...
Full Story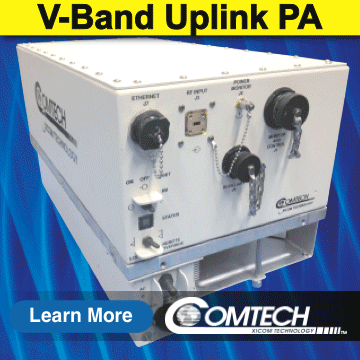 NEW V-Band 250-Watt Power Amplifier for HTS Gateways
Comtech Xicom Technology introduces model XTD-250QV2, a 250W V-Band (47.2-54.4 GHz) uplink power amplifier. The high power level, covering the entire spectrum, enables new categories of high data-rate applications. This V-Band Power Amplifier is available in Comtech Xicom liquid-cooled and air-cooled packages. The amplifier is antenna mounted at the feed to minimize loss.


Space is becoming more congested, competitive and contested with thousands of small LEO satellites set to be put into orbit over the next decade. These assets offer the opportunity to provide un-dreamt of levels of connectivity - but have also cluttered space and debris is now posing a radical risk to other space assets. 

With these important issues in mind, the 14th annual Military Space Situational Awareness conference will bring together key military, government, civilian and industry stakeholders to discuss technologies and strategies being utilised to build a greater understanding of where assets are, how they are moving and management of space assets at the end of their shelf life.