Space Industry Experts Will Abound ... All at the Same Time and Location During Satellite Innovation
Rather than recounting industry trends or focusing myopically on NewSpace, the Satellite Innovation conference is designed to provide a bigger picture of...
Full Story
Echostar's Acquisition Offer for Inmarsat Rejected by the Company
According to Inmarsat, they received what they referred to as a "highly preliminary and indicative non-binding proposal" from Echostar and ...
Full Story
A Launch Trilogy for Rocket Lab and a Noteworthy New Customer — Canon Electronics
All three missions will lift off from the Rocket Lab Launch Complex 1 on the Māhia Peninsula in New Zealand and dispense the customer spacecraft...
Full Story
Intelsat Raising Fresh Funds
Intelsat says that about $230 million (195 million euros) will take the form of new common shares (with a nominal value of $0.01) and be used as an...
Full Story
Aerospace Corporation Proposes Launch Unit Standards for Smallsats
CSPS's new
Setting the Standard: Launch Units for the SmallSat Era
paper discusses the implementation of a launch standard for medium-class...
Full Story
SES Granted FCC Authorization to Expand Their O3b Satellite Constellation
The FCC grant opens significant additional frequencies to SES for use in its non-geostationary (NGSO) constellation and enables it to deploy O3b...
Full Story
Development Contract Awarded to GomSpace by ESA
The scope of the project is the development of a novel product called the Mega-Constellations Operations Platform ("MCOP") that will become a key...
Full Story
Harris Delivers Their Next Advanced Nav Payloads to Lockheed Martin for U.S.A.F.'s GPS III Satellites
The GPS III navigation payload features a Mission Data Unit (MDU) with a unique 70 percent digital design that links atomic clocks, radiation-hardened...
Full Story
High Quality and Interference Free Service for Belintersat Provided by Integrasys' Controlsat and Keysight's Analyzer
With Integrasys' Controlsat Carrier Monitoring System, Belintersat is able to monitor up to 200 carriers per second. Additionally, the service offers...
Full Story
ViaLite's L-Band HTS for Defense Provides Security for Those Who Defend Others
The link is ideal for the extremely demanding dynamic range applications associated with HTS and defense, and is based on the ViaLiteLong Distance
Full Story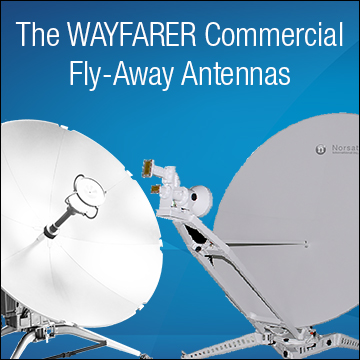 Norsat's New WAYFARER™ Commercial Fly-Away Antennas
Known and trusted for rugged military-grade products, Norsat's new WAYFARER™ commercial fly-away antennas are easy-to-use with fast setup and tool-free installation. Available in auto or manual acquire, the reliable WAYFARER fly-away antennas deliver strong performance in an ultra-portable package. The WAYFARER fly-away antennas are flexible in a wide range of applications and can be used by broadcasters, telecommunication service providers, news organizations, and in remote environments such as oil and gas, and mining.

13-18 September 2018
RAI, Amsterdam, The Netherlands

The IBC Conference is an unrivaled global destination for discussion and debate about the many different challenges facing the electronic media and entertainment industry, both in its sessions and in the range of networking opportunities it affords. 
The IBC Exhibition covers fifteen halls across the RAI, hosting over 1,700 exhibitors and a number of specially curated feature areas and events that tie into the IBC Conference to enrich your understanding of technologies and trends that are driving the industry.
Satellite Innovation 2018 features a dynamic group of over 100 speakers who will be participating in a series of panels, workshops, focused presentations and keynotes designed not only to address exciting innovations, but the market forces that will guide their implementation.
Rather than recounting already imminent industry trends or focusing myopically on NewSpace, the Satellite Innovation conference is designed to provide a bigger picture of how new technologies are influencing SatCom businesses, and how organizations can optimally utilize these developements.
In addition to a content rich program, Satellite Innovation is home to many networking events.  Join industry leaders as we shape the future of the satellite industry.