Avineon Introduces Metrics Extension™ in the ArcGIS Marketplace
As a key component of Avineon's Ability Accelerator, the Metrics Extension empowers GIS and IT departments with baseline reporting for data...
Full Story
United States Enlists Thales' Advanced Ground Segment Technology to Respond to Distress Signals
MEOLUT Next is the only solution in the world capable of processing second-generation beacons in real-time.
Full Story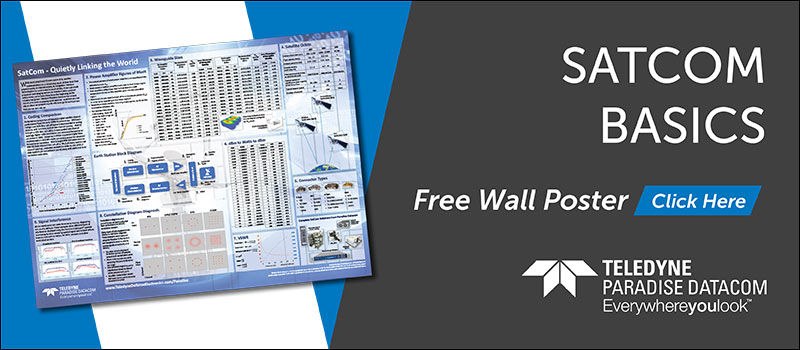 UltiSat to Provide Prime with MILSATCOM Services for USG Customer
The managed COMSATCOM services, which will be continuously accessible by Government-furnished VSAT operating across North America...
Full Story
Goonhilly Earth Station Expands Their Operations Enabling Multitasking in Multi Locations
The new site gives Goonhilly more space to expand their design engineering team and attract talented engineers in the South-East and South-West of...
Full Story
Russia to Err on Side of Caution ... Conducting Unmanned Launches Before Sending Up Manned Mission
The Soyuz rocket will be launched only after the inquiry has identified the causes of the emergency and measures have been taken to prevent ...
Full Story
UPDATED: BepiColombo Starts the Journey, Launched by Arianespace Aboard a Heavy Lift Ariane 5 Rocket
Ascending from the Spaceport's ELA-3 launch complex at 10:45:28 p.m. local time in French Guiana — the planned precise moment of liftoff — Ariane 5...
Full Story
ThinKom's First Test of Their Thin Satellite Antenna with the SES O3b Constellation is Successful
The test was conducted in August of 2018 at ThinKom's facility in Hawthorne, California, in collaboration with SES Networks...
Full Story
SPAWAR Contract for Intellian for the SPL100 Antenna System for the U.S. Navy
This new antenna system provides enhanced capabilities in Ka- and L-band, depending on operational requirements. Intellian was...
Full Story
Globecast's Satellite Backhaul to Support ATP Media's Tennis Events
The new three-year deal extends Globecast's relationship with ATP Media, with Globecast supplying ad hoc distribution services for the ATP World Tour Masters 1000s...
Full Story
Orolia's Milestone ... Nine Search and Rescue Systems Across Five Continents for Global Commissioning
a record nine global search and rescue systems across five continents, including five ground-based Local User Terminals and four Mission Control Centers.
Full Story
Rocket Lab Selects NASA's Wallops as the Firm's First U.S. Launch Site
The site will be Rocket Lab's second dedicated launch complex and builds on Rocket Lab's existing ability to launch up to 120 times annually from the ...
Full Story
Viasat and MDA Partner Up for New Service Facility for Military Comms Terminals
The Halifax facility will be strategically located near the largest East Coast bases of the Royal Canadian Navy (RCN) and Royal Canadian Air Force (RCAF)...
Full Story
Thales Alenia Space Contracted by ESA for Galileo GMS and GSF Development
This contract, amounting to approximately 324 million euros, will also include maintenance of the currently deployed operational versions. The main goal...
Full Story
Aerojet Rocketdyne Does 'Double Duty' Powering the AEHF-4 Satellite and Atlas V Launch Rocket
Compared to all chemical propulsion, AR's electric propulsion results in a savings of more than 2,000 lbs. of propellant, reducing launch costs.
Full Story
Celebration by Inmarsat... 400 Jet ConneX Inflight Business Jet WiFi Solutions Installed
Jet ConneX is the preferred linefit option by all of the market-leading business jet manufacturers, including Gulfstream, Bombardier, Dassault and Embraer...
Full Story
United Launch Alliance's Moment in the Sun ... Statement Following Successful AEHF-4 Launch
Air Force payloads into orbit from GPS to WGS, and SBIRS to AEHF and ULA's 100 percent launch success has directly contributed to our national security.
Full Story